Tested: Why the iPad Pro really isn't as fast a laptop
One benchmark makes it look good. A lot of other benchmarks show a different story. Get all the details here.
Peterson also said relying on browser-based benchmarks, which many testers have done, is inherently problematic, as you're limited to what hardware is exposed to the browser.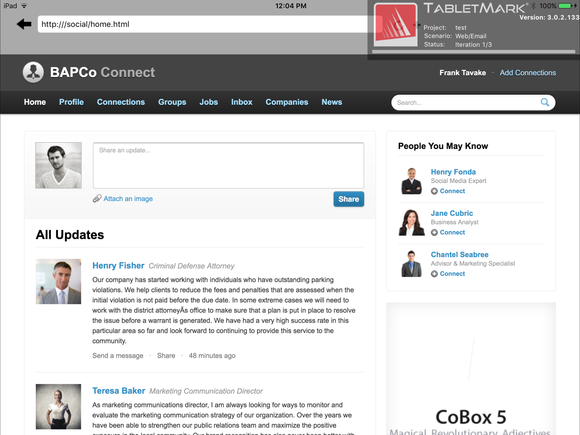 TabletMark V3 running on the iPad Pro uses each device's APIs and takes an hour or more to run.
What about editing three 4K streams?
One of Apple's most impressive claims is the ability to "edit" three simultaneous 4K movie streams—something that is no fun on a desktop and probably out of reach of most laptops.
To test that, I decided to throw the platform a fastball. I grabbed several 4K RAW video files shot on a Red digital cinema camera.
On the Core i7 Surface Book I installed Premiere Pro CC, created a project, added several of the R3D files to the timeline, and tried to play it back. Without doing a render, it wasn't going to happen at full-res without major hitching—and this with the assistance of the GeForce GPU. Once rendered out, editing and scrubbing through the timeline was possible.
On the iPad Pro I tried to open up the same R3D file in iMovie with no luck. I'm pretty sure the issue is iMovie's inability to read the raw R3D files. I also copied over a 4K-resolution .MOV file to the device but had no luck opening it in iMovie either. I'm not saying Apple is wrong, but I had no luck trying to do what Apple says the iPad Pro can do.
Benchmarketing 101
So what does this all mean?
For one thing, I don't think you can look at just a couple of numbers from one or two benchmarks and make a conclusion. That is, unless you're looking to bend the truth to fit a pre-conceived agenda. That's called benchmarketing, not benchmarking and there's a difference.
The truth is, most of the testing I've run shows the iPad Pro isn't faster than a current or even two-year old Core-class Intel CPU. (Atom, now that's another story.)
It's just not.
But it's still one hell of a chip.
I tried to heat up the A9X to check for performance throttling by repeatedly running 3DMark and simply gave up. It just does not get hot. I can't say the same for the admittedly smaller (and harder-to-cool) Google Nexus 9, which gets hot just browsing the web. Watching the same 4K movie file (that I couldn't actually edit) on the iPad Pro was buttery-smooth even playing in a background window. It's a very impressive tablet.
It still won't replace my Surface Pro 3 nor my laptop because it's not up to desktop-grade functionality. That's not the A9X's fault. It's because the OS and apps aren't up to the "pro" requirements for multi-tasking, nor the precision control of a mouse and keyboard experience.
Previous Page 1 2 3 4 5 6 7 8 9 10 Next Page