Tested: Why the iPad Pro really isn't as fast a laptop
One benchmark makes it look good. A lot of other benchmarks show a different story. Get all the details here.
I decided to settle for something a person would do on both platforms that makes you drum your fingers on the desk. Like decompressing a 1GB ZIP file that also had 256-bit AES encryption applied to it. I took several thousand tiny 5K .ini files, added low-resolution screen shots and web photos, then ladled on some higher-res JPG files, a 267MB .MTS video file shot on my Sony NEX, maybe a hundred PDF files and a dozen or so MP3 files. Finally I compressed them all with 256-bit AES using 7-Zip. The file was copied to each device.
On the Windows machines I used 7-Zip 15.11 beta to decompress the files. The results were timed with a stopwatch, and an average of the last three runs of a four-run series was recorded, with the first test discarded. This type of testing is inherently unreliable and sometimes can't be reproduced, but I've run it enough times on all of the platforms to have some confidence in it.
With the Windows machines, there were no issues. Not one. The iPad though, gave me fits depending on the app I used. Winzip, for example, just hung even trying to decompress an encrypted file a quarter the size. I finally found an app that would work in iZipPro. It reliably decompressed the file over and over and over again without issue.
The result in my jury-rigged test? Pretty good, but no cigar. Check it out: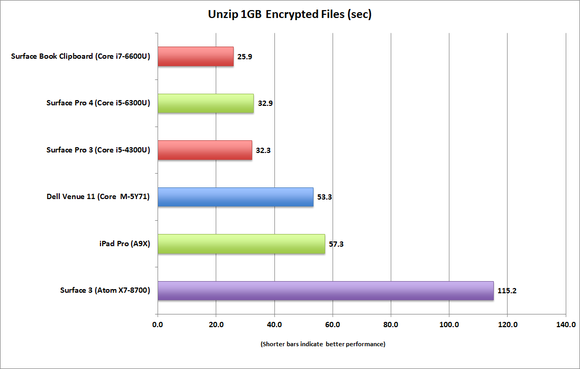 I timed how fast each device could decompress a 1GB file. Click on image to enlarge.
Keep in mind, this test is more of a system-level test than a pure CPU test. Memory bandwidth, storage performance, file system and CPU are all working for the result you see here. Once the file has decrypted the .MTS file, for example, it's just writing a copy back to the drive as fast as it can.
In this one test, the iPad Pro can't touch even the two-year old Surface Pro 3 and its Haswell chip, but the Core M in the Dell Venue Pro 11 is just barely ahead of the iPad Pro. It's a good show for the A9X, but a two-year Haswell chip finishes the job in half the time. Atom X7? Um, yeah, Coach wants to talk to you after practice today.
But what about Geek Bench 3?
The bulk of these tests would indicate the A9X is a really fast ARM chip, at the top of the mountain—for ARM-based tablets. If you still want laptop-like performance with a full-service OS though, you'll need a full Core-class chip
Previous Page 1 2 3 4 5 6 7 8 9 10 Next Page