Tested: Why the iPad Pro really isn't as fast a laptop
One benchmark makes it look good. A lot of other benchmarks show a different story. Get all the details here.
But rather than make a change just to help show off Apple's performance, Futuremark chose to stick to its benchmarking method, declaring:
"3DMark is designed to benchmark real world gaming performance. The Physics test uses an open source physics library that is used in Grand Theft Auto V, Trials HD and many other best-selling games for PC, console and mobile. Higher scores in 3DMark Ice Storm Physics test directly translate into improved performance in games that use the Bullet Physics Library and are a good indicator of improved performance in other games."
My own test
I didn't want to rely on just third-party benchmarks for this. Instead I wanted to keep it real by finding an actual heavy-duty function that would be done on a device. Such as, say, a test that measures how fast a device handles an Excel spreadsheet used in trading scenarios. For that I turned to a publicly available test put out by Excel Trader.
Excel, unlike Word, can use the all the CPU power you throw at it if you use it for intensive purposes. My thought was, it didn't matter what any of the benchmark theories were. This is a real app. A real task. By someone who can drive an Excel spreadsheet like Richard Petty navigating Riverside International Raceway.
But...boom: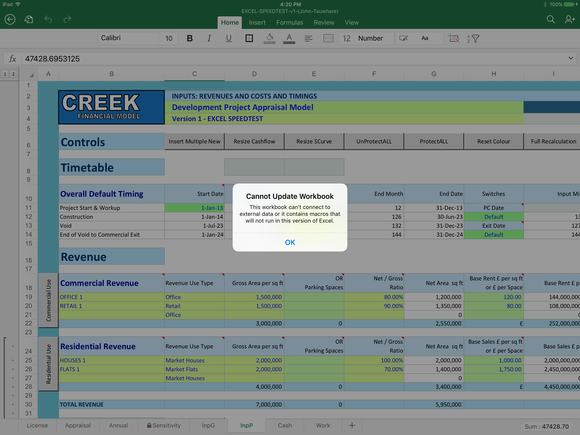 Does Excel on the iPad Pro offer 100 pecent compatability? No. Click on image to enlarge.
I tried both the Excel 2007 and the Excel 2011 tests available from Excel Trader. No dice. Meanwhile, on the Surface Pro 3 with Excel 2013 I had no issues running either of the site's test files: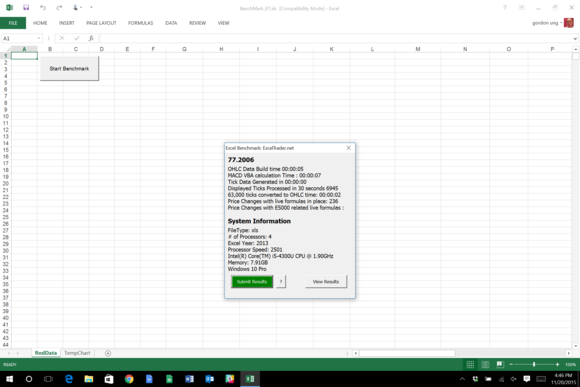 Full compatability means everything works. Not just some or lots of it. Here's what Excel Trader's benchmark file looks like when it runs. Click on image to enlarge.
It's Microsoft's fault
To be fair, some of this failure goes back to Microsoft's uneven support of Excel on the Mac platform. But it also shows that you can't quite do "everything" on an iPad Pro that you can on a PC, even now that Microsoft is actively supporting the iPad. People really do rely on Excel to push some very complicated financial and statistical modelling, or use a lot of Office's Visual Basic scripting. Is it what 75 percent of people do? No, but if you're in that 25 percent that needs it, you'll be pissed it doesn't work. Or you'll just buy a Surface.
Well, hell, I needed to test something. I certainly can't run AutoCAD 2016, Photoshop CC or Premiere Pro CC on the iPad Pro. Ahem.
Previous Page 1 2 3 4 5 6 7 8 9 10 Next Page