Tested: Why the iPad Pro really isn't as fast a laptop
One benchmark makes it look good. A lot of other benchmarks show a different story. Get all the details here.
TabletMark V3 also measures photo and video performance, which gives the iPad Pro a healthy lead over the ARM competitors and the Atom X7-Z8700. Except for the Atom X7, the A9X doesn't come close to the Core i5 or Core i7 devices, or even the Core M.
The puzzler is the performance of the Surface Pro 3 and the Dell Venue 11 Pro, which use older chips. I expected this to be in the bag for the Skylake parts, but the Broadwell-based Core M and the even older Haswell Core i5 are hanging right there.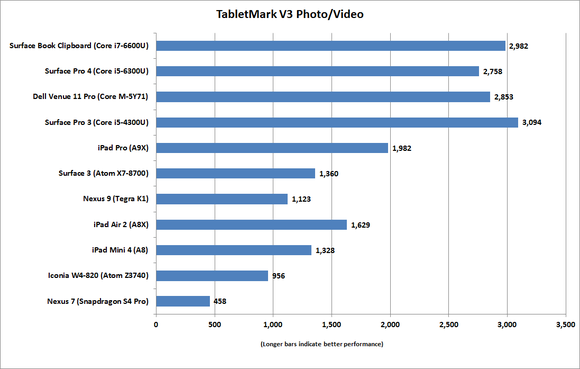 You'd think the iPad Pro would ace photo and video tests, but it lags behind core i5, Core i7, and even Core M. Click on image to enlarge.
Every other test I've run shows Skylake with a healthy performance bump over Broadwell and Haswell. I attribute that to the chip's running at higher clock speeds, and other micro-architecture improvements. For what it's worth, I don't generally bother with TabletMark V3 when I test anything with any actual performance. I haven't found it to scale with faster CPUs, and other tests are far more intensive.
3DMark and graphics performance
For graphics performance I turned to 3DMark's Ice Storm Unlimited. It's a popular test that happens to run on iOS, Windows and Android. It renders the test without regard to the screen resolution and is a pretty good measurement of lower-grade graphics performance. By lower grade I mean, this isn't Assassin's Creed Syndicate, which will reduce even a $650 GeForce 980 Ti to 45fps.
All of the devices here used the integrated graphics. The Surface Book was in Clipboard mode, with its GPU disconnected and two feet away. The overall score factors in game physics and the graphics performance.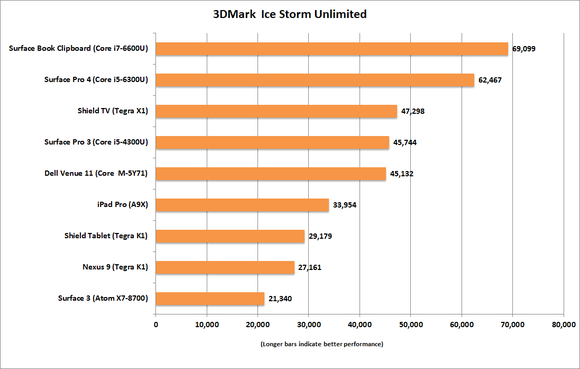 The iPad Pro's A9X chip can't even make it to the middle of this pack, posting a score behind even the Dell Venue 11 Pro and Surface Pro 3. Click on image to enlarge.
Apple put a lot of resources into giving the A9X a metric ton of graphics performance, and it shows. It slightly outpaces the Nvidia Tegra K1 in the Nexus 9 and the Shield Tablet in 3DMark. But if you keep looking up that chart, the A9X is still a good clip behind the Dell Venue 11 Pro and the Surface Pro 3. Mind you, that Venue 11 Pro's Core M is an older power-sipping chip that uses 4.5 watts, not a 15-watt chip like the Surface Pro 3's.
Previous Page 1 2 3 4 5 6 7 8 9 10 Next Page