Tested: Why the iPad Pro really isn't as fast a laptop
One benchmark makes it look good. A lot of other benchmarks show a different story. Get all the details here.
Although I think it matters less, I'll hit you with the results from Geek Bench 3 for multi-core too. The iPad in multi-core performance is on a par with the older Haswell-based Surface Pro 3, but it loses to the newer Skylake-based Surface Pro 4. Why? I'm not sure, but the Intel chips' Hyper-Threading resource management could be a factor. That's why I think the single-core performance is more meaningful.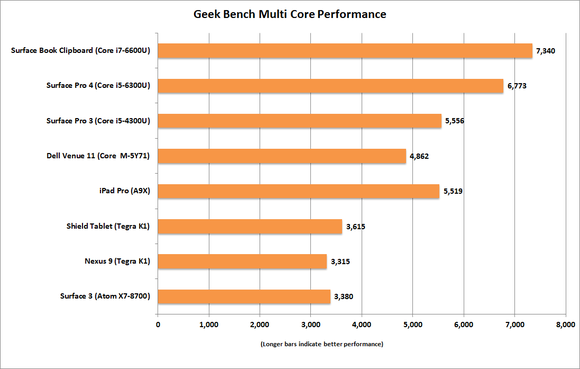 The iPad Pro loses a little ground in the multi-core Geek Bench 3 result, but zowie! Click on image to enlarge.
Goodbye, Intel
First up is BAPCo's TabletMark V3. While Geek Bench 3 attempts to create what its makers think is an accurate measure of CPU performance using seconds-long "real world" algorithms, BAPCo's approach is actually more "real world." The consortium of mostly hardware makers set out to create workloads across all the different platforms that would simulate what a person does, such as actually editing a photo with HDR, browsing the web, or sending email. Because there's no universal app that runs in Windows, Windows RT, Android and iOS, BAPCO set out and custom-created apps that did the same thing with the same interface across all platforms. When you watch it run on the platforms, it looks like someone is using an application on all three doing the same task on all three.
A white paper on the benchmark discloses the approach as well as the libraries, compilers and APIs used in the test. The test runs in real time, which could take a few hours on some devices. Here's how the iPad Pro fares.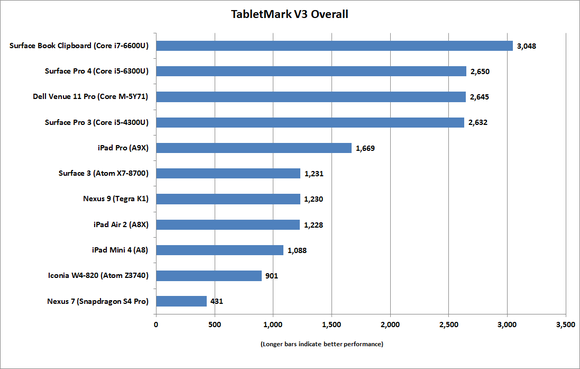 BAPCO's TabletMarket V3 doesn't look quite as dire as Geek Bench 3. Click on image to enlarge.
TabletMark disagrees
In TabletMark V3, the iPad Pro doesn't look quite as threatening, does it? Even the Intel Haswell Core i5-4300u in the two-year old Surface Pro 3 easily outpaces the A9X here. It isn't even far ahead of the tablet pack. The worst performer for x86 is the budget Surface 3 with its Atom X7-z8700. For shame Atom, for shame.
The benchmark has two performance modules, which give you an idea of how fast the device would be in web browsing and email. The result is tepid, with even the Nexus 9 and its Tegra K1 just behind it in performance. If you were to put stock in this test, the iPad Pro is maybe a little faster than a Surface 3 and Atom.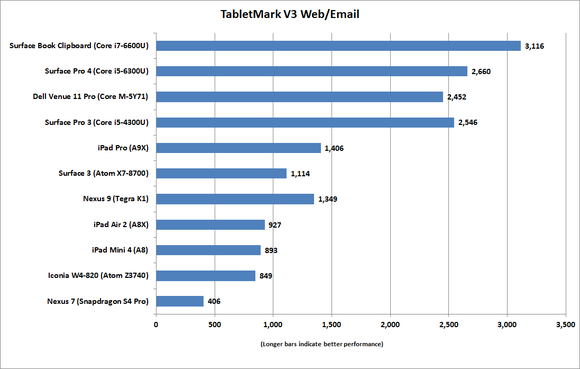 TabletMark's V3 score indicates the iPad Pro doesn't compete with Intel's Broadwell or even older Haswell CPUs. Click on image to enlarge.
Previous Page 1 2 3 4 5 6 7 8 9 10 Next Page