Tested: 9 fashion-forward Apple Watch bands
Nobody will even notice your Watch—they'll be too busy looking at the band.
Fashion Copilot: Sheer Elegance and Touch of Sparkle bands
Fashion Copilot is a small, Michigan-based accessories company that makes replacement bands for the Apple Watch and the Fitbit Flex. The company's motto appears to be "all bling, everywhere," because all of their leather bands are studded with Swarovski crystals. I checked out a full, crystal-studded band from the Sheer Elegance collection, as well as a subtler style with just three crystals on each strap from the Touch of Sparkle collection.

Fashion Copilot's lineup: Touch of Sparkle (top), Sheer Elegance (bottom). Credit: Sarah Jacobsson Purewal
The $130 Sheer Elegance bands come in a variety of colors and are available for both the 38mm and the 42mm Watches. My review unit was bright pink with iridescent crystals, but the band also comes in black, white, and red, with a variety of different crystal colors (Fashion Copilot is a small business, so I assume that the colors vary with stock). The band has is fully studded with crystals on both strap pieces, with a sliver of crystal-less leather where the adjustment holes are. The longer strap measures approximately 4.25 inches long and has 12 adjustment holes. The shorter strap is 3.25 inches long (including buckle), and has one free-moving leather loop for holding the loose strap in place.

Fashion Copiliot's Sheer Elegance. Credit: Sarah Jacobsson Purewal
I love crystal-studded tech accessories, but the Sheer Elegance bands look a little cheap. The rhinestones on this band aren't individually placed (which can look gorgeous)—they're on an adhesive sheet. On one hand, this is actually a good thing—because there's much less of a chance that you'll lose a stone. On the other hand, this makes the band look like you should be paying $30 for it, not $130. Don't get me wrong—the band looks nice and sparkly from afar, it's just not worth the price.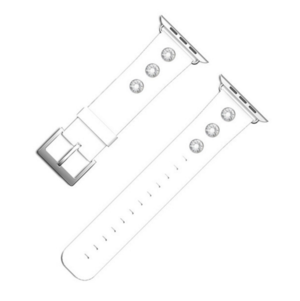 Fashion Copilot's Touch of Sparkle.
But all is not lost! The $55 Touch of Sparkle bands look better, and are much cheaper. This leather band comes in black, white, gray, pink, red, blue, and mint green, and is available for both the 38mm and the 42mm Apple Watch. It features three crystal studs on each side of the strap (and these are actual studs, which go all the way to the back of the band). The band is the same make as the Sheer Elegance collection bands—sturdy, slightly stiff leather with 12 adjustment holes and shiny silver hardware. The studs in this band can be felt when you're wearing your Watch, but I didn't find them to be particularly uncomfortable.
Previous Page 1 2 3 4 5 6 Next Page