Tested: 9 fashion-forward Apple Watch bands
Nobody will even notice your Watch—they'll be too busy looking at the band.
Case-Mate x Rebecca Minkoff: Double Wrap Leather and Silver Snakeskin bands
Case-Mate isn't just relying on its own designers to make fashion-forward tech accessories—the company is also venturing into the real fashion world, teaming up with designer Rebecca Minkoff to offer a cool collection of fashionable Apple Watch bands (and other accessories). I tested the $80 Silver Snakeskin band and the $100 Double Wrap Leather band from the collection.
The Silver Snakeskin band is a two-piece snakeskin leather band with a shiny but slightly distressed metallic silver finish. It comes in just one color (silver) and is only available for the 38mm Watch. I like how slim this band is—it starts out at about 0.93 inches wide at the top (near the Watch face) and tapers down to just half an inch wide about halfway down. The longer piece of the band is about four inches long and has seven adjustment holes.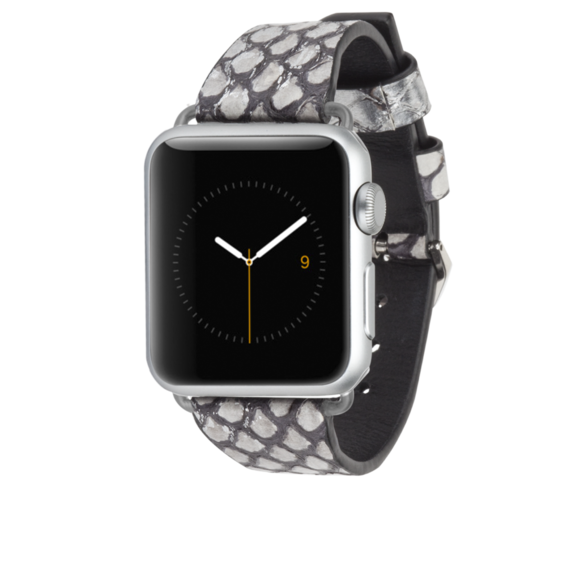 Rebecca Minkoff's Silver Snakeskin band.
The Silver Snakeskin band is a pretty typical leather watch band, style-wise, with two leather loops for holding the adjustment end in place and a shiny gunmetal watch clasp. This band only comes with one color of adapter—sort of a dark matte aluminum that is just slightly off-color when compared to my Watch Sport's aluminum finish, which might be a little jarring if you have a gold or rose gold Watch. That said, a gold or rose gold Watch will probably clash with the silver to begin with, so the adapter clash is probably the least of your issues. This leather used in this band is very soft and comfortable right out of the box, and the snakeskin's texture means that you won't notice any warping for a while.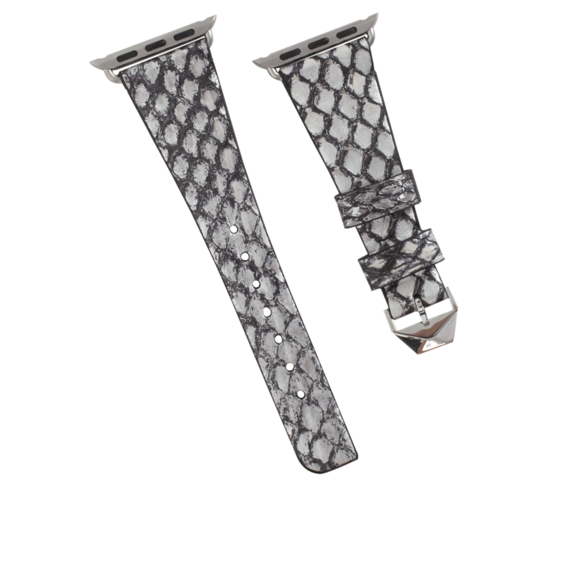 Rebecca Minkoff's Silver Snakeskin band.
The Double Wrap Leather band is subtly cool and edgy (and this silhouette is all the rage right now—thanks, Hermès!), with an extra-long strap that wraps around your wrist twice instead of just once. The Double Wrap band is made of thin, flexible leather and has all black hardware—black dome stud accents, matte black adapters, and a shiny black angular buckle.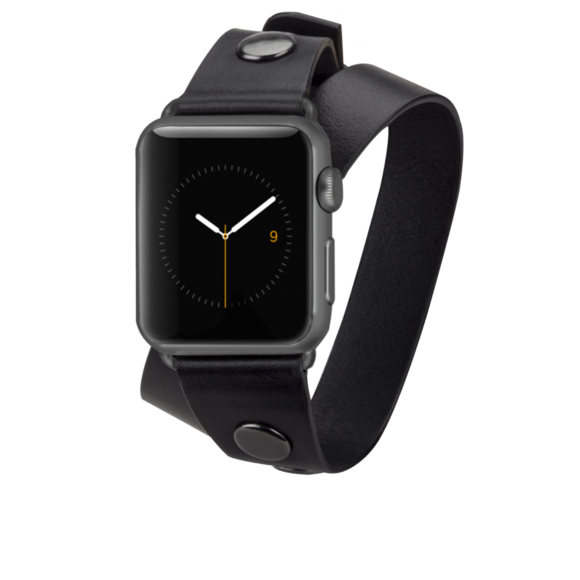 Rebecca Minkoff's Double Wrap.
My only real issue with the Double Wrap Leather band was how it was packaged. The band comes folded over itself in order to fit in the case—understandable. But it's folded so sharply that there's a huge, noticeable crease in the otherwise smooth leather of the band—and that crease just happens to fall right on top of your wrist where the band wraps around the second time. Considering this band costs $100, this is pretty disappointing.
Previous Page 1 2 3 4 5 6 Next Page