Tested: 9 fashion-forward Apple Watch bands
Nobody will even notice your Watch—they'll be too busy looking at the band.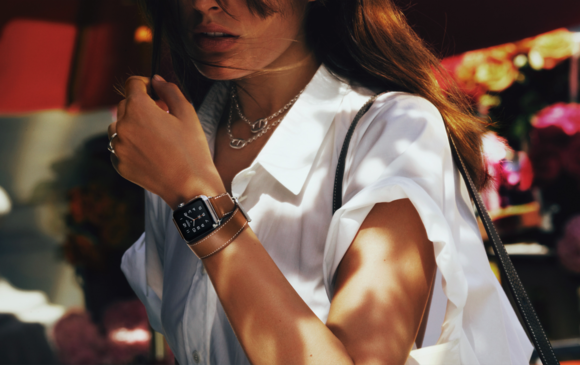 Credit: Apple
Is the Apple Watch a fashion statement?
Unless you can shell out for pieces from the Hermès Collection (pictured above), not really. I know a lot of people say it's good-looking for a smartwatch, but that's the thing. It's good looking… for a smartwatch. But it's not particularly good looking for, well, a watch. Would I wear my Apple Watch if it didn't track my steps and buzz whenever I got a text? Probably not.
But there are ways to make the Apple Watch more fashionable: Third-party bands! You're not stuck with traditional-looking bands in traditionally boring colors. I tried out nine third-party bands, including a couple of double-wrap bands and rhinestone-studded bands, over the course of several weeks to see how they feel, look, and hold up. Let's take a look!
Case-Mate Turnlock band
Case-Mate's $35 Turnlock band is perfect for fashionistas on a budget—this unique-looking bangle-style band is made of flexible elastomer and costs $14 less than Apple's cheapest "official" band (the Sport band). The Turnlock band comes in black and shocking pink, and is only available for the 38mm Apple Watch.

Credit: Sarah Jacobsson Purewal
The Turnlock band is a single piece of elastomer molded to look like it's made of chunky, oversized chain links. The links are flat on the top and bottom (and they aren't actual links), so the band is fairly comfortable to wear. The Turnlock band's adapters are also made of elastomer, so they don't blend seamlessly into your Watch when connected.
Because the Turnlock band is a single piece, you don't connect it to the Watch like you would one of Apple's bands. Instead of sliding both ends of the band into the Watch's grooves, you will need to connect just one side, wrap the band around your wrist, and then connect the other side.
Putting it on isn't too difficult, but taking it off is, since you need to push the little metal button on the inside of your Apple Watch to release the band from the adapter groove. This button is not easy to press—especially when your Watch is on your wrist. The Turnlock band isn't incredibly tight, but taking the band off is still almost impossible to do alone.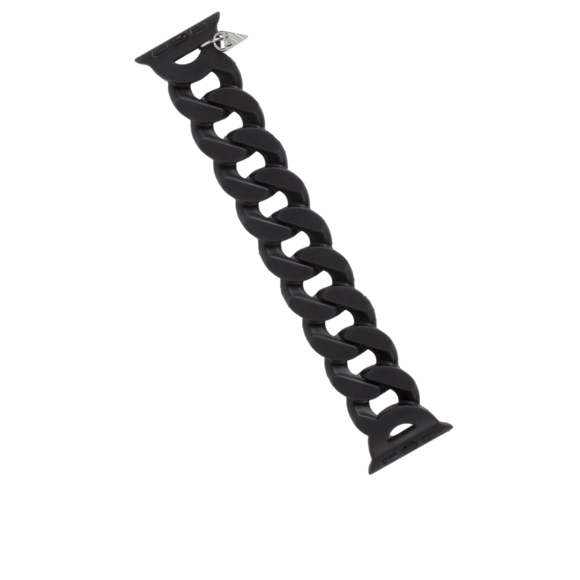 Unfortunately, because the band isn't very tight, the Watch's heart rate monitor doesn't really work reliably all of the time, since the sensor needs to be snug against your skin. This is a downside, but luckily, it almost makes up for that shortcoming in overall aesthetic: It looks very stylish for a $35 band. The band fits wrists up to 7.75 inches around. My wrist is barely 5.5 inches around, which means that it was a little loose on me—but in a cool, bracelet-type way, of course.