Tested: 5 selfie sticks for hands-free iPhone photos
Selfie sticks undoubtedly get you a great selfie angle. But which stick is for you?
SelfieOnAStick's Wired Selfie Stick is not a bad choice, but it doesn't feel quite as sturdy or as high-quality as some of the other sticks we tested. Some lack of sturdiness is to be expected with a lightweight selfie stick, and this stick does have its plusses—for example, it extends to be an impressive 39.5 inches (from the bottom of the clamp to the bottom of the stick) and folds into a relatively compact 9.25 inches.
Solo Stick Premium SE
Solo Stick's $15 Premium SE selfie stick is a lot like the GoTech Stealth Bluetooth Selfie Stick, only $5 cheaper. And when I say 'a lot like,' I actually mean 'basically an exact replica.' Both the Solo Stick Premium SE and the GoTech Stealth Bluetooth Selfie Stick are 'new' models, so it's hard to tell who contracted the manufacturer first. But all the good (and bad) things about the GoTech Stealth apply to the Premium SE—this stick is super compact, has cool-but-sort-of-cheap-looking gold accents, and features Bluetooth.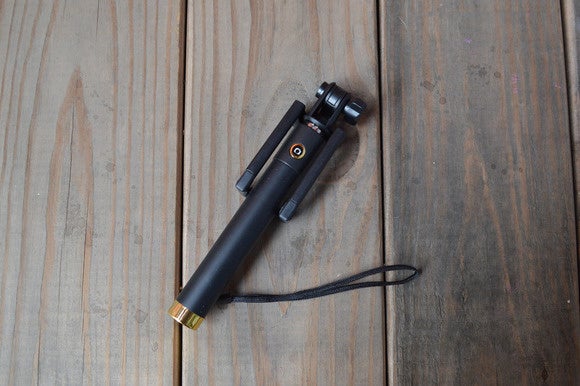 There are a few minor differences between the Solo Stick Premium SE and the GoTech Stealth Bluetooth Selfie Stick. For one thing, the Premium SE does not have a GoTech logo above the shutter button. Also, it's 0.25 inches shorter, because the GoTech stick has a quarter-inch more metal sticking out above the handle. Finally, it's 0.2 ounces heavier (the Premium SE weighs 4.4 ounces), but that probably says more about quality control than anything.
The Premium SE has a grippy rubber handle and a sturdy rubber-lined phone clamp that folds backward onto the handle for a compact design. There's a rubber tab on the top of the phone clamp that makes it easy to place your phone inside the clamp, as well as a locking mechanism that lets you adjust (and lock) the angle of the clamp. The clamp is large enough to accommodate an iPhone 6 or an iPhone 6 Plus.
Whether you go for the Solo Stick Premium SE or the GoTech Stealth Bluetooth selfie stick, you're making a good choice. This stick is short, sturdy, and cheap, and so long as you remember to charge it (the battery lasts about 3 days on standby), it's one of the more subtle selfie sticks.
Have a selfie stick that you're particularly fond of, or are you secretly hoping that they'll start spontaneously combusting like the hoverboards? Sound off in the comments.
Previous Page 1 2 3 4 5