Tested: 5 selfie sticks for hands-free iPhone photos
Selfie sticks undoubtedly get you a great selfie angle. But which stick is for you?
The Looq DG is a sturdy selfie stick that makes sense if you're looking for length. It's not particularly lightweight at five ounces, nor is it very compact unless you take the clamp off of the stick (and promptly lose it). When the clamp is on the stick, it doesn't fold backward on itself—it actually doesn't fold past a right angle. I am a fan of wired selfie sticks because I frequently forget to charge things, and this stick will never run out of batteries at the worst possible moment. As for the app, that's not really a selling point—I wouldn't use it, and neither will you.
SelfieOnAStick Wired Selfie Stick
SelfieOnAStick's $25 Wired Selfie Stick is the lightest selfie stick in our round-up, weighing just four ounces. The Wired selfie stick comes in a variety of bright colors (green, purple, pink, light blue, and black) and has a slim handle with a ridged rubber grip and a compact, foldable design, making it the perfect travel companion.
The Wired selfie stick, as you might have guessed from its name, is wired. It has a short, half-coiled wire that plugs into your phone's headphone jack to trigger the camera shutter. The wire on this selfie stick protrudes from the back of the stick, so it's easy to plug into your phone no matter which side the headphone jack is on. While a wired selfie stick might seem a little clunky versus a Bluetooth stick, the Wired selfie stick doesn't need to be charged or paired with your phone, nor does it sap battery life from your phone by forcing it to use Bluetooth.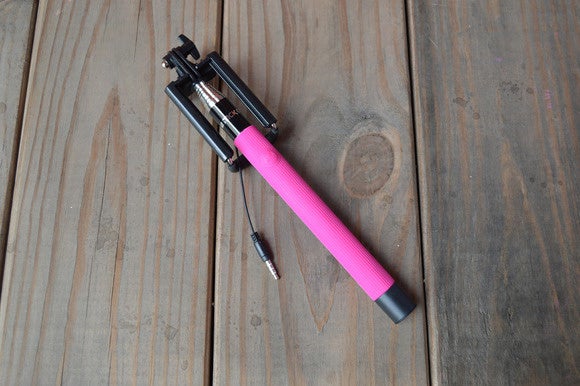 The Wired selfie stick has a typical rigid phone clamp that folds back onto the stick for a more compact design. To put your phone in the clamp, just open the clamp (there's a small rubber tab on the top of the clamp for easy maneuvering) and put your phone inside. The clamp has a foam lining, which means it's sturdy but not quite as stable as a clamp with rubber lining – if you shake this stick around enough, your phone will move and possibly dislodge. But you'd need to shake it pretty hard, and I'm not sure why you'd be doing that in the first place.
This stick may be lightweight, but it feels sturdy and (relatively) well-made. The handle is slimmer than the other selfie sticks' handles in our round-up, which didn't bother me but might read as flimsy to some people. The bottom of the handle is plain black plastic—no wrist strap, which seems like an oversight—and near the top of the handle is a small, raised button for triggering the camera shutter. I'm not a huge fan of this button, because it's small, covered in rubber, and not very comfortable to press (it feels like you're pressing the head of a pin, rather than a button).
Previous Page 1 2 3 4 5 Next Page