Tested: 5 selfie sticks for hands-free iPhone photos
Selfie sticks undoubtedly get you a great selfie angle. But which stick is for you?
Unlike other selfie sticks, the Gorilla Gear selfie stick does not have a shutter button on its handle. Instead, you'll need to use the Bluetooth remote (which runs on a watch battery) to snap your photos. This is fine—the remote has a large, easy-to-press button and thankfully doesn't have to be charged—but unless you attach the remote to your stick… I suspect you'll lose it almost instantly.
Gorilla Gear's Selfie Kit is attractive and well made, and it looks nicer and more expensive than the selfie sticks you find in the $3 bin at Fry's. But there are too many moving parts for my liking—I lose small, detachable electronic items very easily—and it's short at just 29 inches long.
GoTech Stealth Bluetooth Selfie Stick
GoTech's $20 Stealth Bluetooth Selfie Stick is compact and lightweight—in fact, it's the most compact selfie stick we tested, measuring just 7.5 inches long when folded—and it looks exactly like the Solo Stick Premium SE. This Stealth stick is black with plastic gold accents, and is definitely on the shorter side at 30.5 inches long from the bottom of the handle to the bottom of the phone clamp. It has a gold-trimmed shutter button and a microUSB charging port on the bottom of the handle (plus a slim black wrist strap).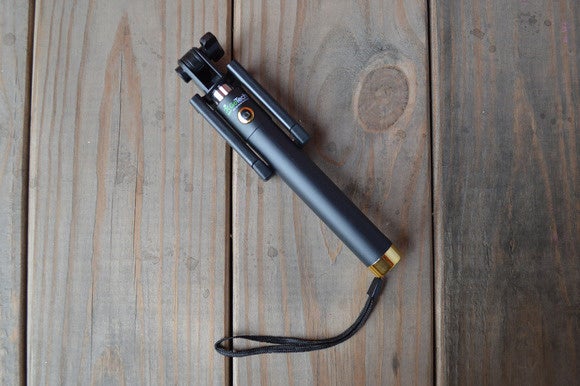 The Stealth Bluetooth selfie stick has a more traditional rigid phone clamp that's permanently attached to the top of the stick and folds over on itself for a compact design. To place your phone in the phone clamp, just pull up on the rubber pull tab and squeeze your phone inside. The clamp fits both the iPhone 6 and the iPhone 6 Plus, but anything bigger (like a tablet) isn't going to work. Once your phone is inside the clamp, it feels sturdy and stable.
This stick is a Bluetooth stick, which means it connects to your phone via Bluetooth and remotely triggers the camera shutter. This also means that it needs to be charged—which is fine in theory, but realistically, I already have a lot of electronics to charge (such as my phone, my Apple Watch, and my laptop), and so a selfie stick doesn't really get priority when it comes to plug space. The Stealth Bluetooth stick does come with a short microUSB cord for charging (but not power supply unit). Once charged, the battery lasts for several days, assuming you're not Kim Kardashian.
If you want a Bluetooth selfie stick, the Stealth Bluetooth Selfie Stick is worth your money—though you can pick up the exact same stick from Solo Stick for $5 less. The rubber-covered handle is thick and sturdy, so you won't feel like it will slip out of your hands when you're taking dangerous, cliff-hanging selfies. The shutter button is easy to press (not the case on all selfie sticks) and the clamp really feels like it grips your phone. The Stealth Bluetooth Selfie Stick definitely wins in size and weight (it weighs 4.2 ounces, 0.2 ounces lighter than the exact same stick from Solo Stick), and it's probably the stick I would buy, since large selfie sticks embarrass me.
Previous Page 1 2 3 4 5 Next Page