Tested: 5 selfie sticks for hands-free iPhone photos
Selfie sticks undoubtedly get you a great selfie angle. But which stick is for you?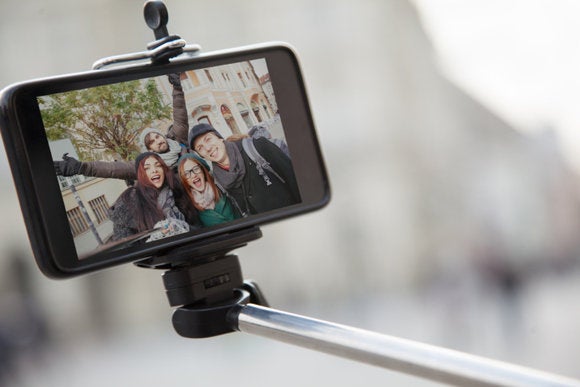 Selfie sticks are all the rage right now—people all around the world are ignoring how utterly stupid they look in favor of flattering grainy phone self-portraits. Is it time for you to take the plunge and buy an extendable rod that will get you in trouble at major theme parks? Of course it is.
But before you pick up a random selfie stick from Craigslist or the dollar store, let's take a look at a few different selfie sticks and how they measure up against each other. There are a few different things to look out for when you're buying a selfie stick, including length (when folded and extended), type of shutter (Bluetooth or wired), overall sturdiness, and clamp size and strength. If you fail to do your research before you buy a selfie stick, you could end up with a stick that's only a few inches longer than your arm, or that has Bluetooth and a battery that only lasts five pictures.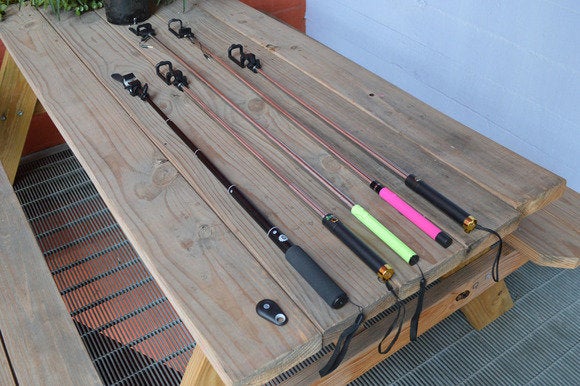 Ta-dah! But which one is for you?
We took a look at five selfie sticks (two of which, despite being from different companies, were exactly the same). Read on to see how they compared.
Gorilla Gear Selfie Kit
Gorilla Gear's $30 Selfie Kit is more than just a selfie stick—it's a selfie kit. The Selfie Kit comes in a foam-lined 'tough' plastic carrying case and has four pieces: A selfie stick, a detachable phone clamp, a miniature tripod, and a Bluetooth camera shutter remote.
Because this is a selfie stick round-up (not a selfie kit round-up), we're going to focus on the selfie stick part of the Selfie Kit—which consists of the stick itself, the detachable phone clamp, and the camera shutter remote, because the stick does not have a shutter button on its handle. This selfie stick is perhaps the best-looking of the sticks we tested—it's all black (even the telescoping rod is black), with a foam handle and a flimsy wrist strap that attaches to a loop on the bottom of the handle. It's also the shortest fully-extended selfie stick we tested, measuring 29 inches from the bottom of the handle to the bottom of the phone clamp. It folds up to be eight inches long, half an inch longer than the GoTech Stealth Bluetooth Selfie Stick and the Solo Stick Premium SE (which we'll get to in a bit).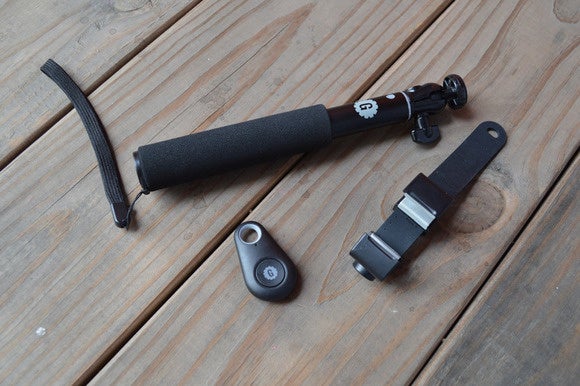 By itself, this selfie stick feels very lightweight. However, add the necessary accessories (the phone clamp and the remote), and the full kit weighs about five ounces (plus the different parts are easy to misplace). The phone clamp is unique: Instead of being a rigid clamp, it consists of two small rubber-lined clamps linked on a flexible piece of ridged rubber. The top clamp moves along the rubber and locks in place with a separate clamp to secure your phone. The rubber has little markers that indicate about where the top clamp should sit for different-sized devices—the iPhone 5, Galaxy S5, Note 3, iPad mini, and iPad. According to Gorilla Gear, this unique clamp system lets you "treat your phone like a GoPro." I found it to be fairly secure, but not so secure that I could start swinging it around with abandon or attaching it to the outside of a car.