Teach your children: Screens are good
When I first brought my daughter home from the hospital, I was so paranoid about how any sort of screen time would crack her fragile eggshell mind, I only permitted the television to be on when the baby was asleep. Even then, I insisted that we keep the television on mute; we relied on closed caption to try and keep up with what was going on. (Our success was mixed: Sons Of Anarchy had perfect transcriptions of biker mayhem, while a PBS series on the Big Apple Circus was basically rendered as gibberish.)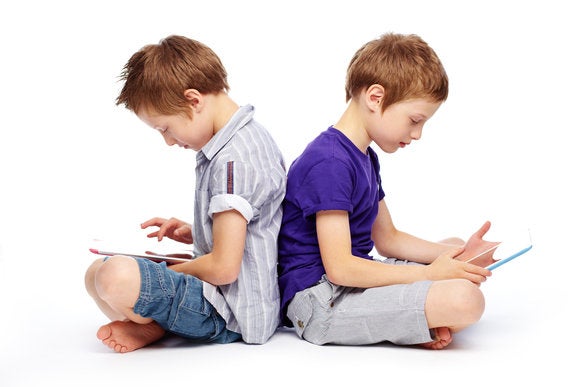 When I first brought my daughter home from the hospital, I was so paranoid about how any sort of screen time would crack her fragile eggshell mind, I only permitted the television to be on when the baby was asleep. Even then, I insisted that we keep the television on mute; we relied on closed caption to try and keep up with what was going on. (Our success was mixed: Sons Of Anarchy had perfect transcriptions of biker mayhem, while a PBS series on the Big Apple Circus was basically rendered as gibberish.)
My paranoia was not ill-founded. The past decade has seen a shift away from a two-screen lifestyle--computer and television--and toward an all-screen model where we can easily spend our waking time shifting our attention between our smartphones, our tablets, our computers and our televisions. Naturally, there's been a rise in "won't someone think of the children?" stories:
Parents spending excessive time on smartphones may be impeding their kids' social and language development, says researcher Jenny Radesky, who notes that when one party is face-down in a smartphone, children can't learn appropriate social reactions. She told NPR, "They learn by watching us how to have a conversation, how to read other people's facial expressions. And if that's not happening, children are missing out on important development milestones."
Boston University School of Medicine researchers say children under age two-and-a-half "cannot learn from television and videos as they do from real-life interactions," so using a mobile device can be "detrimental to the social-emotional development of the child" and hamper the kiddo's ability to develop either practical problem-solving skills or human empathy.
Any screen time has been linked to sleep disruption in preschool-aged children, and television viewing has been linked to delayed language development among very small children.
There's also been a rise in stories about high-tech professionals who are giving their children an upbringing straight out of a Laura Ingalls Wilder book--natural wooden toys, nary a screen in sight, lots of making your own fun. The implication here seems to be that the tech elite knows something they're not telling us about the effects of abundant screen time on young brains. (The practice is more benign: most tech-leaning parents are concerned about the deliberately addictive quality of gaming and they note that children have little to no ability to self-regulate. So they set limits.)
The American Academy of Pediatrics has been quite forthcoming with their screen time recommendations for the wee ones too: No screen time whatsoever for children under age 2, no TV screens in any child's room, and be present for any electronic entertainment consumption.