Survey: Users love their desktops more than their cheapo tablets
Correction: People love their iPads. It's all the other tablets that are slipping.
ACSI does dive into the categories of what's making people so unhappy and it found that it's universally everything when laptop, desktop and tablet are lumped into "personal computer." From OS to processor speed, stability, apps and memory and storage people were less satisfied than before. The only category that improved was "website satisfaction."
ACSI said much of the sour taste may not be just bad hardware, but also consumer expectations have grown.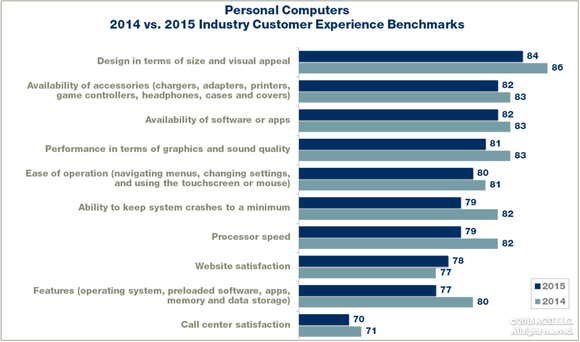 What people are "satisfied with" on their personal computers. Click on image to enlarge.
ACSI broke, out satisfaction numbers for why the desktop rules. 'Processor speed' led for desktops for satisfaction as well as 'graphics and sound quality.' Desktops also led the pack in operating system, memory and 'data storage.'