Surface Book vs. Surface Pro 4: Picking the best came down to just one thing
Two great productivity machines, one hard choice.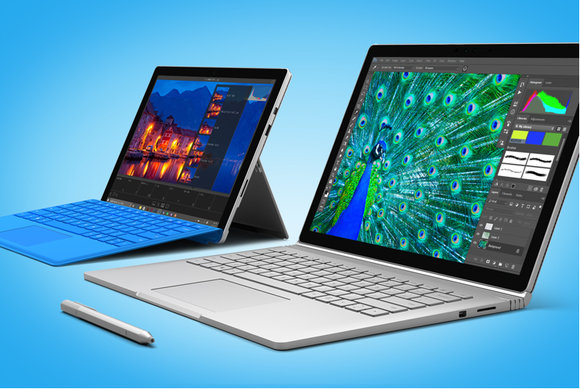 Credit: Microsoft
We love the Surface Book. We love the Surface Pro 4. But what we haven't told you yet is the question many of you are asking: Which one is better? And the answer is: the other one.
For the last week, we've tossed the question back and forth: which one do you like? Why? We both agree that the Book's appeal lies in its discrete GPU, battery life, and laptop-like form factor. The SP4 is slightly cheaper but offers some serious bang for your buck. Gordon and I know both devices: I spent time with the Book, then tested the Surface Pro 4. Gordon owns a SP3 and wrote our Surface Book review.
But a funny thing happened on the way to publication: Each of us became convinced that the other Microsoft product was better. I'm sold on the Book's long battery life, and Gordon was more partial to the sharp uptick in performance the SP4 offered—without all the cash you'd have to lay out for the Surface Book. So here's what we decided to do: make our case for each product, and let you decide who's right.
But yes, we still picked a winner.
Features
Mark: For me, the debate's almost over at this point. The Surface Book is simply the sexier of the two machines, with that articulated hinge, gorgeous 13.5-inch 3,000 x 2,000-pixel display, and detachable tablet. I can see little wrong with the device, save for the fact that the "clipboard" tablet lacks an expansion slot. Walk into an airport lounge or coffee shop with a Surface Book, and everyone knows you mean business. It's Microsoft's Chromebook Pixel, but it can actually, you know, do something.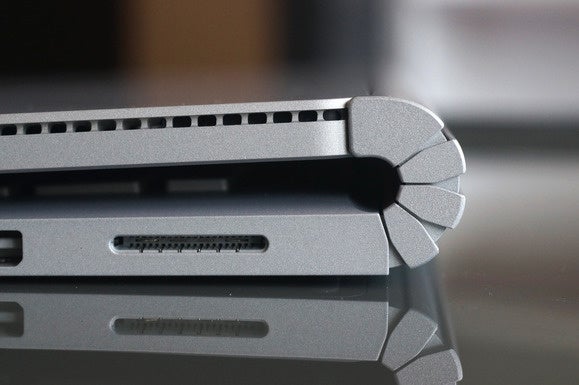 The hinge on the Surface Book is more than pure bling, Microsoft says. It keeps the entire laptop from flopping over. Credit: Gordon Mah Ung
Don't get me wrong—I love the Surface Pro 3. That thing's lived in my backpack for most of last year, and finally cracked under repeated use. (Speaking of cracking, the Book's hinge should withstand a normal backpack load, Microsoft says.) The SP4 should step right in as a terrific replacement. But I can't exactly pine for a minivan when there's a Ferrari on the lot, you know what I mean?
Gordon: There is simply no sexier laptop today than the Surface Book. That beautiful, large screen and battery life and its performance really make it my go-to device for just about everything. But it ain't small by a long shot. The Surface Pro 4 is something you don't mind hauling everywhere with you every single day, while the Surface Book will make its presence known in your bag. And if you think "hauling" means walking from your cubicle to your car and tossing the bag in the trunk, I mean trudging or cycling miles with everything on you.