Surface Book vs. MacBook Pro: It isn't twice as fast. It's three times as fast
Microsoft figured out how to put a discrete GPU into the Surface Book, and it paid off.
The result is a bone-crushing blow for the MacBook Pro 13: Tomb Raider ran at a pathetic sub-24 fps, while the Surface Book whizzes along at 74 fps.
If Microsoft based its marketing statements on this test alone, it could have safely said "triple the performance of a MacBook Pro."
To be fair, if you've read this far, you know the Surface Book twice as fast or three times as fast as the MacBook Pro 13 in all things. In this one game, however, at these settings it is and it does approach a being twice as fast in many tasks. And that's Benchmarketing 101 for you. Is it fair? Maybe not in some people's books, but then I'm sure they'd agree claiming an iPad is faster than 80 percent of portable PCs is wrong too.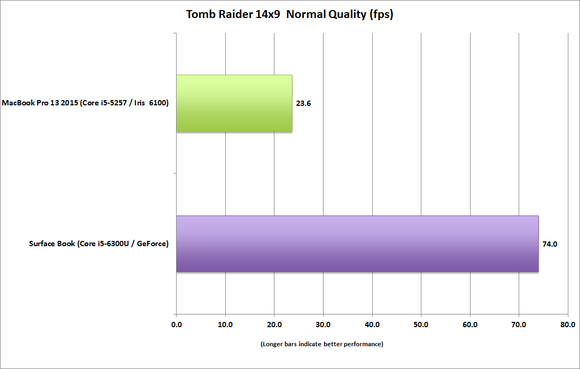 Tomb Raider really puts the MacBook Pro 13 at a huge disadvantage. If I were Microsoft PR, I'd pick this benchmark and start screaming. Click on image to enlarge.
The GPU in the Surface Book isn't just about gaming. Sure, that's a nice bonus over integrated graphics, but the GPU really plays to other applications that need more graphics performance. CAD/CAM users, for example, can use it, and other professional-level applications should see a nice bonus with the discrete graphics chip in the Surface Book. That's why my last performance benchmark will be Adobe Premiere Pro Creative Cloud.
Premiere Pro has used GPU acceleration for years. It originally supported only Nvidia's CUDA but has since added OpenCL. Luckily it runs on both platforms, too.
For my test I installed a Premiere Pro CC on both laptops, imported a 6.5GB 4K resolution .MOV video file, and then exported the movie to H.264 using the Vimeo preset at 1080p resolution with the maximum render quality setting enabled. On the Mac, OpenCL was used. On the Surface Book, CUDA was my choice because it's an Nvidia chip.
The result? Another crushing blow in favor of the Surface Book. For a professional, less time spent rendering means more productivity. On the Surface Book, it was done literally minutes ahead of the MacBook Pro 13.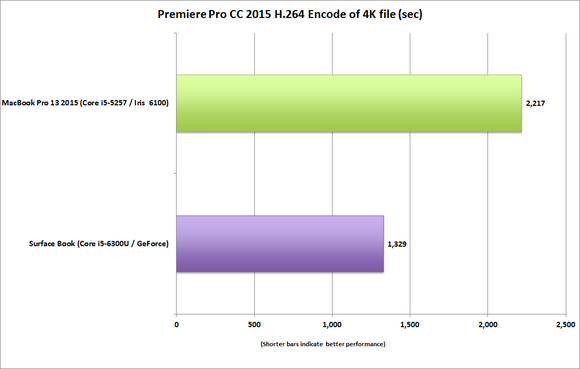 I leaned on Premiere Pro CC 2015 to encode a 4K H.264 file on both platforms and Surface Book pile drives the Macintosh. Click on image to enlarge.
Battery life
This wouldn't be complete without a battery run down test. As I can't run MobileMark 2014 on OSX, I resorted to a standard video run down test.
Previous Page 1 2 3 4 5 Next Page