Surface Book vs. MacBook Pro: It isn't twice as fast. It's three times as fast
Microsoft figured out how to put a discrete GPU into the Surface Book, and it paid off.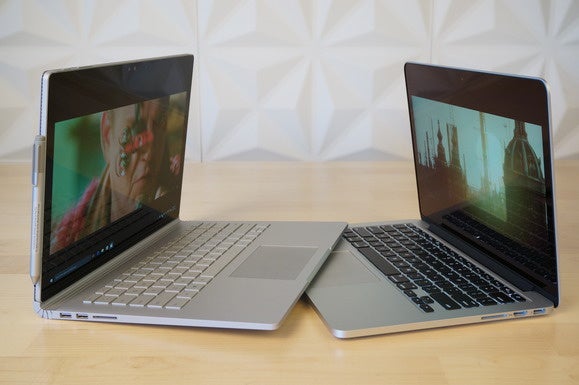 Credit: Gordon Mah Ung
Of course we had to pit the Surface Book vs. the MacBook Pro. It's like Ford vs. Chevy, or Coke vs. Pepsi. Each side has its diehard fans, plus others who just want to know which is better.
Microsoft claims its new Surface Book is "twice" as fast as its equivalent MacBook Pro. Well, we ran some benchmarks, and hate to say it, but Microsoft lied. The Surface Book isn't twice as fast.
It's three times as fast.
Read on for the details.
What Microsoft meant
First, let's clarify what Microsoft meant when it said the Surface Book would smoke the MacBook Pro. The company specifically means the MacBook Pro 13 inch model. That's a very important distinction, because the MacBook Pro 15 is a different class of laptop. It's larger, heavier, and packs a quad-core CPU and fairly beefy AMD discrete graphics. For Microsoft to say the Surface Book out performed the MacBook Pro 15 would be absurd. It would be like Apple saying the MacBook Pro 15 outperforms, oh, an MSI GT 80 Titan SLI laptop in gaming. So the target for the Surface Book is the MacBook Pro 13. Here's proof from Microsoft's own reviewer's guide.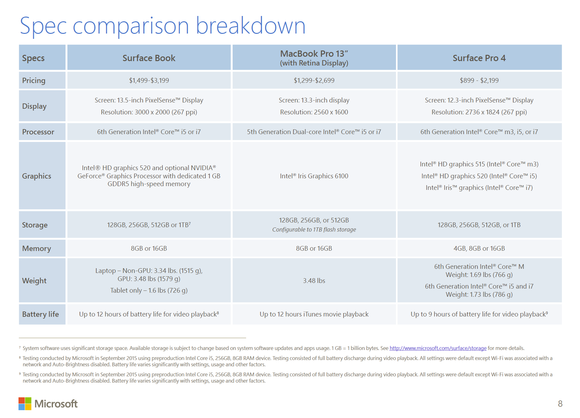 Microsoft's reviewers guide clearly shows the MacBook Pro 13 as the primary Apple machine the company wants to go up against.
Marketing hyperbole is one thing, but the only way to properly settle this argument is with benchmarks at dawn.
How I tested
For my tests, I had access to a 2015 MacBook Pro 13. But the only Surface Book I had with the discrete graphics chip had an Intel Core i7-6600U.
That's not a fair comparison, but I had a workaround. Microsoft had also provided a Core i5 Surface Book without discrete graphics. Microsoft is still pretty secretive about the GPU in the Surface Books, but I don't believe it's putting a different GPU in the higher-end models. I just plugged the Clipboard section with the Core i5 into the base with the graphics chip in it. Neat.
So for the record, I tested a Retina MacBook Pro 13 with an Intel Broadwell Core i5-5752U, Iris 6100 graphics, 8GB of RAM and PCIe SSD, and the latest El Capitan build. Its rival was a Surface Book with an Intel Skylake Core i5-6300U, GeForce graphics, 8GB of RAM and PCIe SSD with Windows 10.
First up were some CPU tests. Cinebench R15 is a cross-platform test that uses a real-world 3D rendering engine from Maxon. The test is pure CPU, so let's see how Microsoft's "twice as fast" statement holds up here.