Surface Book Review: Microsoft reimagines the laptop, and it's glorious
Powerful, fast and beautiful: The Surface Book is unlike any other laptop you've ever seen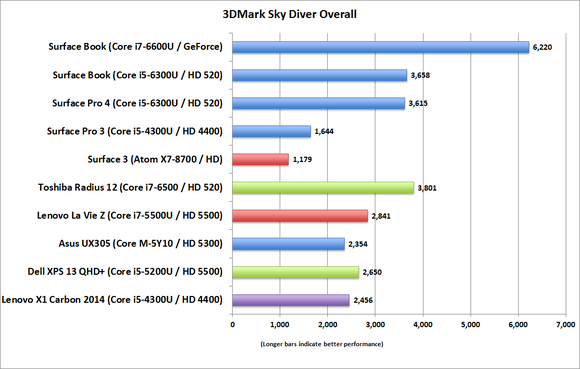 You can easily see the performance of the GPU in the Surface Book over Intel's Skylake, Broadwell and Haswell graphics. Click on image to enlarge.
But let's face reality: The GPU in the Surface Book does not put it in contention with an 8-pound, 17-inch gaming laptop or even a mid-range, five-pound laptop.
That doesn't mean you can't game on the Surface Book. Counter-Strike: Global Operations, DOTA, League of Legends and StarCraft II are not a problem. They're barely a problem for the latest integrated graphics, also, but the Surface Book will give you twice the performance of integrated graphics in those games and more.
For example, Tomb Raider at normal is fully playable and quite smooth at 71 fps on the Surface Book at 1,280x1,024. DiRT Rally can be run at ever-high settings with the same resolution compromise. It's honestly acceptable gaming if you have tempered expectations and accept that this is a GeForce 940m-class GPU, not a GeForce GTX 980. Why don't I have scores for the other Ultrabooks in these games? I frankly don't try to run them on integrated graphics.
Intel still has a card to play with its upcoming Iris and Iris Pro graphics cores that may really change the equation of this battle.
Discrete graphics are more for pros
The discrete graphics play for the Surface Book is not just about gaming. It's really to cater to the person who needs CAD/CAM or other apps. In an encode job I threw at both the Surface Book with the Nvidia GPU and a current-generation MacBook Pro 13, I saw a better than 50 percent performance advantage for the Surface Book.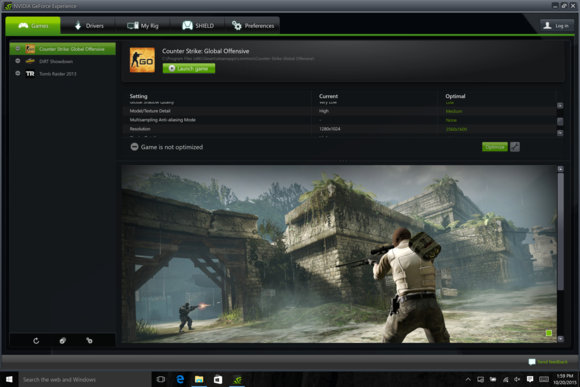 Yes, GeForce Experience does indeed work on the Surface Book. It just isn't installed from the factory.
Drivers and GeForce Experience
Those who game cherish their drivers as much as their GPU. In most gaming laptops, you download drivers directly from Nvidia or AMD and go. For the Surface Book, Microsoft says it will vet and push out drivers directly but you can probably run reference drivers as well.
I installed GeForce Experience on my Surface Book with GeForce graphics, and it appears to work fine for optimizing games at this point.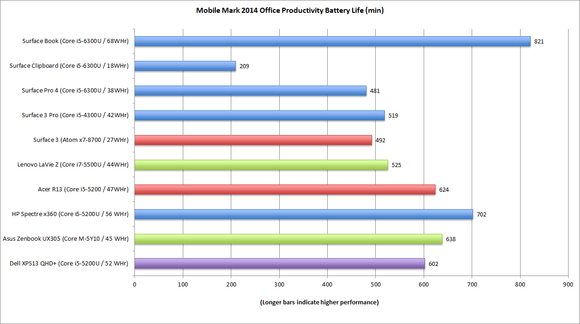 The Surface Book's massive battery capacity puts it well ahead of the pack. Click on image to enlarge.
Stupid-long battery life? Yes

Previous Page 1 2 3 4 5 6 7 8 9 10 11 Next Page