Surface Book Review: Microsoft reimagines the laptop, and it's glorious
Powerful, fast and beautiful: The Surface Book is unlike any other laptop you've ever seen
Cinebench Performance
Moving on to Maxon's Cinebench R15, which measures a PC's performance at 3D rendering, I compared the same stack of Ultrabooks using various Haswell and Broadwell Core i5, Core i7 and Core M CPUs to again see the Surface Books outpacing the the pack. The Core i5-6300U Surface Book even turns in a higher score than the Core i7-5500U in the Lenovo LaVie laptop. In the Surface Books, we see the Core i7 with a clear advantage over its sibling with the Core i5 as Cinebench takes only a few minutes to run.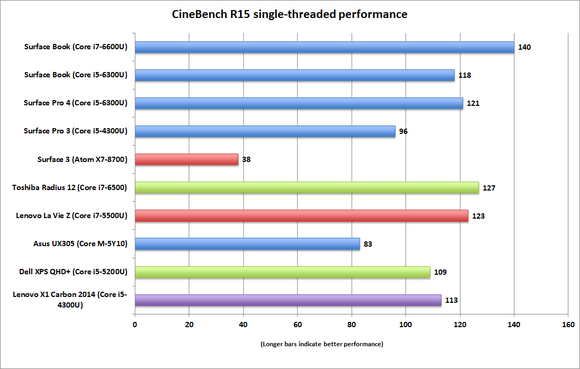 When limited to just CPU core and a lighter thermal load, you can see where the value of a Core i7 CPU in the Surface Book comes in. Click on image to enlarge.
Core i7 Surface Book is better in sprints
To put a finer point on it, I also ran Cinebench R15 in single-threaded mode. This would simulate CPU performance on most applications which don't actually use all of the cores. Here I expected to see the Surface Book open space between the Core i5 Surface Book and the Core i7 in the Toshiba Radius 12, and I wasn't disappointed. This basically tells you if your workloads are shorter and run in bursts, the Core i7 will yield better performance.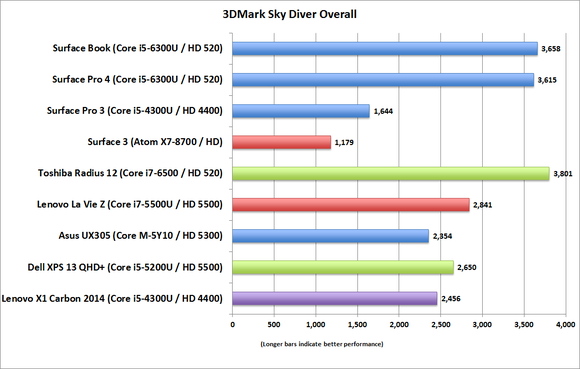 Skylake has a big advantage over Haswell and Broadwell in graphics. Click on image to enlarge.
Integrated graphics performance
Skylake's biggest performance benefit is obviously in graphics. All three of the Skylake-based machines in 3DMark Sky Diver show sizeable performance boosts over the Haswell and Broadwell-based devices. Between the Surface Book with the Core i5-6300U and the Dell XPS 13 you're looking at roughly a 32 percent difference. You may shrug at such an increase because it's just integrated graphics, but it's a significant performance upgrade over Broadwell.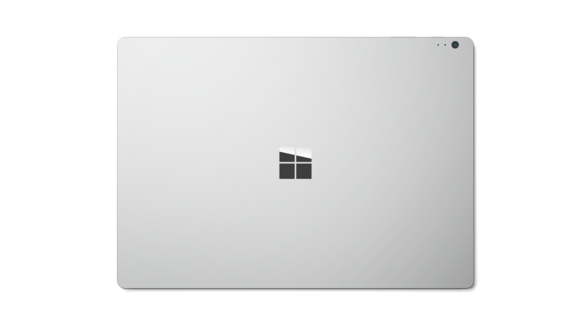 The Surface Book has a large foot print, but it's not the biggest. Credit: Microsoft
Discrete graphics performance
Now we see if it was worth Microsoft's trouble to get that chip into an Ultrabook. First up is the obligatory benchmark chart with the Surface Book and discrete graphics chip added into the mix. Bam. Yes, the discrete chip in the Surface Book pile drives the entire room of integrated graphics laptops it's compared to. Against the Surface Book without discrete graphics it's about a 50-percent performance advantage. Against the Dell XPS 13 with its HD 5500, the gap opens up to 80 percent.
Previous Page 1 2 3 4 5 6 7 8 9 10 11 Next Page