Surface Book Review: Microsoft reimagines the laptop, and it's glorious
Powerful, fast and beautiful: The Surface Book is unlike any other laptop you've ever seen
We know a little more now about the plumbing, too. It's obviously an internal—umm, external PCIe connection that runs from the Clipboard to the Base unit. The connection is a x4 PCIe Gen 3 that offers about 25 percent the bandwidth of a full x16 PCIe Gen 3 connection. Some will recoil in horror, but it's plenty and shouldn't be an issue in the Surface Book.
CPU Performance
Thanks to Skylake, both Surface Books performed well in our tests. As you may know, CPU clock speeds ramp up and down based on the load and how hot they get. With Intel's 5th-generation Broadwell chips, the CPUs would hit their higher Turbo Boost speeds and then, within a few minutes, fall back from, say, 2.9GHz to 2.6GHz. Skylake generally seems to hold much higher clock speeds even under heavy loads, at least on the early machines I've tested. Between the higher clock speeds and microarchitecture advances, it adds up to a meaty performance difference.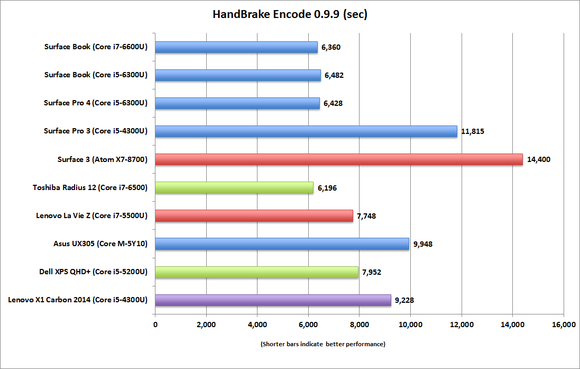 On lengthy work loads, the Core i7 Surface Book doesn't yield as much as advantage as you'd think over the Core i5 Surface Book due to heat. Click on image to enlarge.
Encoding performance
In our Handbrake Encode test, we transcoded a 30GB 1080p file to the Android Tablet profile. It's a beefy test that has a CPU running at full load for almost two hours.
Both Surface Books turn in good scores here, but the edge for value actually goes to the Core i5 Surface Book. The Surface Book with the Core i7 CPU starts off at fairly high speed but settles down to about 2.95GHz for most of the run. The Surface Book with the Core i5 basically sits at 2.85GHz for most of its run. In the end, it's probably a wash.
One thing you should note: With the CPU sandwiched into a sub-8mm chassis with an LCD panel on top of it, Microsoft doesn't push the Core i7 in the Surface Book as hard as the Toshiba Radius 12 does. The Surface Book is actually a little slower than the Toshiba Radius 12.
The answer is how much heat the PC can handle, how much fan noise the maker is willing to subject you, and how hot the skin temperature of the laptop can get. Microsoft chooses to favor quieter fan noise and lower skin temp, so it gives up a little performance here on very long work loads.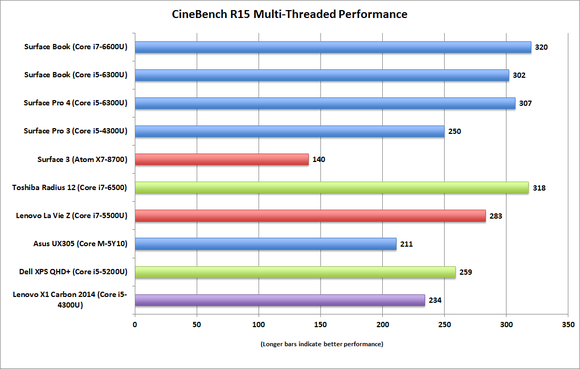 In this 3D rendering benchmark, the Core i7-based Surface Book gets a little more breathing room. Click on image to enlarge.
Previous Page 1 2 3 4 5 6 7 8 9 10 11 Next Page