Surface Book Review: Microsoft reimagines the laptop, and it's glorious
Powerful, fast and beautiful: The Surface Book is unlike any other laptop you've ever seen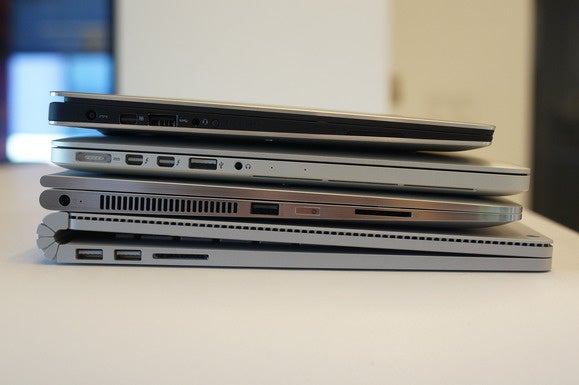 Here's a stack with the Dell XPS 13 on top, followed by an Apple MacBook Pro 2015, an HP Spectre X360 and then the Surface Book. Credit: Gordon Mah Ung
Ports of call
The Surface Book's port array includes two USB 3.0 Type A, a miniDisplayPort and an SD card reader. For an Ultrabook, this is pretty typical. The Surface Book gets bonus points for its docking station, which gives you two more DisplayPorts, Gigabit ethernet, four USB 3.0 ports, and analog audio out. This all connects through the Surface power connector.
I'm surprised there's no support for Intel's new Thunderbolt 3.0 or USB 3.1 on the Surface Book for higher speed I/O devices. Sure, I'd rather have a pure miniDisplayPort over USB-C but it feels odd not having USB 3.1, at least. Read to find out what the GPU is inside the Surface Book and how it performs.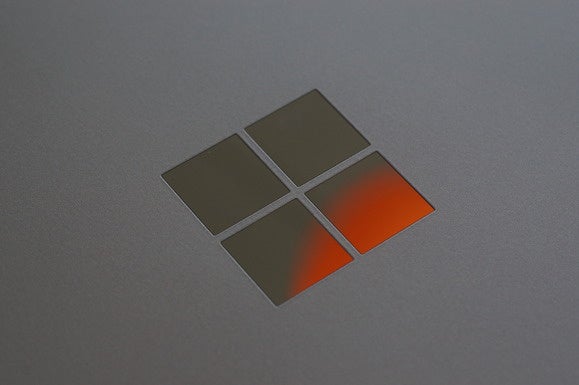 This isn't just a polished logo. Microsoft machines or laser cuts this channel and then bonds four shined up pieces of metal to make this logo. Credit: Gordon Mah Ung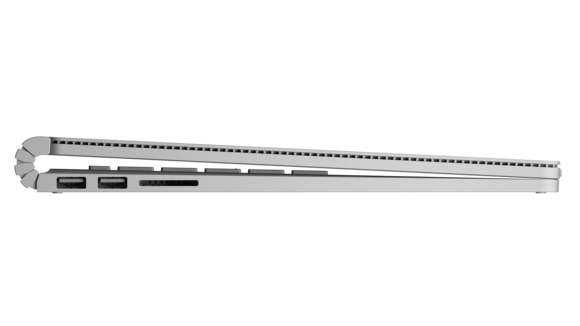 Mind the gap. Some love the gap, some hate it, but it should keep the keys from scratching the screen. Credit: Microsoft
More about the GPU
Remember our two Surface Books: an Intel dual-core Skylake Core i5-6300U, 8GB of LPDDR3 in dual-channel mode and a 512GB M.2 PCIe SSD drive and integrated graphics only; and a dual-core Skylake Core i7-6600U, 16GB of LPDDR3 and the Nvidia graphics chip under the keyboard.

It's the dedicated graphics that gets us going. All Microsoft would say publicly is it's a custom GeForce chip, and Nvidia won't say squat. Looking at the GPU in our Surface Book I'm pretty certain it's a custom version of the GeForce 940m. It has 384 CUDA cores, runs at 945MHz, has 40GBps of memory bandwidth and features a 64-wide memory bus. That sounds just like the GeForce 940m except for one thing: The chip in the Surface Book has 1GB of GDDR5, instead of the much slower DDR3 of most GeForce 940m laptops.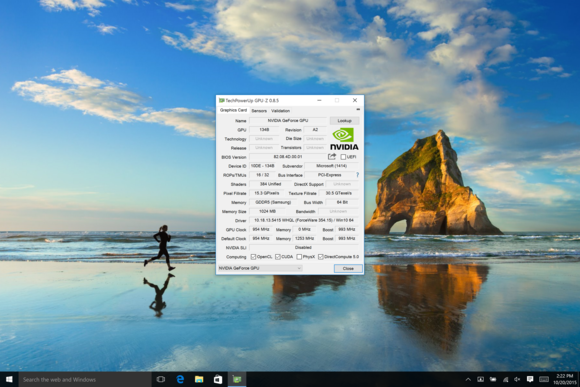 Nerds, I know you want this so here it is: A GPUZ shot of the GeForce chip in the Surface Book.
There were a lot of forum groans when the chip's details surfaced earlier this week, as some were expecting the GPU to be a higher-performing chip such as the GeForce GTX 950m. Unfortunately the laws of physics don't allow that today in a 13-inch laptop Ultrabook. If the custom GeForce chip in the Surface Book is, indeed, a GeForce 940m variant, it likely uses about 25 watts of power. Moving up to the GeForce GTX 950m would double your CUDA cores, memory bandwidth and probably the performance. It would also doubles the power consumption and heat. Today, that class of GPU is limited to larger and heavier laptops—nothing as lithe as the Surface Book.
Previous Page 1 2 3 4 5 6 7 8 9 10 11 Next Page