Surface Book Review: Microsoft reimagines the laptop, and it's glorious
Powerful, fast and beautiful: The Surface Book is unlike any other laptop you've ever seen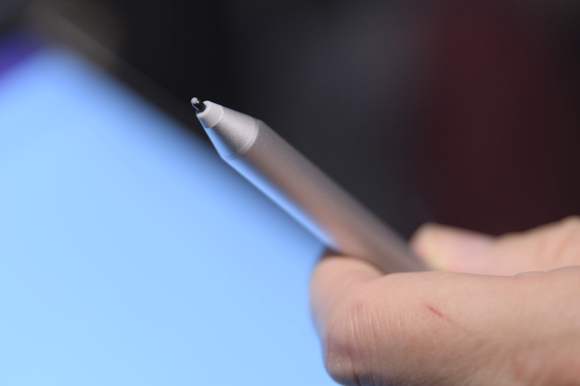 The new Surface Pen has interchangeable nibs for a choice of writing or drawing feel. Credit: Peter Ruecktenwald
The pen still uses a difficult to source AAAA part but you shouldn't have to worry about it for a year or so between uses. Opening it is also a little different. With the Surface Pro 3 you just unscrewed the top. The the new Surface pen you rotate it counter-clockwise a few millimeters and then pull it out.
The good news is the new pen feels great. It features a rubbery nib with optional tips to tailor the feel. Microsoft said it also burned engineering time on a new G5 controller to optimize touch and pen input for the Surface.
I'm admittedly not a heavy pen computing user, but I like them for those times when I need to sign or mark up a document. I compared the Surface Book's pen input to a laptop with a Synaptics pen, as well as the Surface Pro 3 with its older n-Trig pen. I found the palm rejection to be fairly excellent on the Surface Book, but it couldn't reject my knuckle-dragging ways. I like VAIO's solution: Just switch off the touch digitizer by pushing a button.
Parallax, which is certainly better on today's pen devices, was still a millimeter or so off from the tip of the pen when tilted over. Latency also didn't feel like a quantum leap over the Surface Pro 3 in my book, but I'm basing this on "feel" rather than any real testing.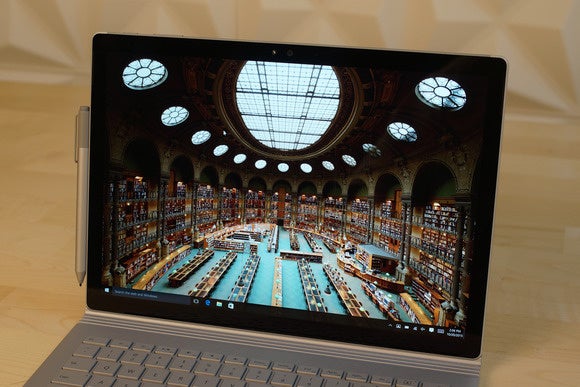 The screen is a 3,000x2,000 photo aligned IPS panel that'll hit 400 nits. Credit: Gordon Mah Ung
Beautiful screen
The 13.5-inch screen on the Surface Book is a stunner. It's a 3:2 aspect ratio with a resolution that's easy to do the math on: 3,000x2,000, or about 6 megapixels.
Microsoft said it's an IPS panel that uses a "negative photo-aligned liquid oxide display." That's a fancy way of saying that during construction of the panels, the layers are carefully aligned to increase contrast and image quality. Televisions have used this technique previously, and Apple recently made a point of that in its iPhone 6 rollout. However, those layers make the screen more prone to reflections than, say, the current MacBook Pro 13.
The display is rated for 100-percent coverage of the sRGB color gamut. It's also spec'ed to hit a blazing 400 nits in brightness. Our meter agreed, putting our Surface Book sample actually a little brighter.
Previous Page 1 2 3 4 5 6 7 8 9 10 11 Next Page