Surface Book Review: Microsoft reimagines the laptop, and it's glorious
Powerful, fast and beautiful: The Surface Book is unlike any other laptop you've ever seen
You can see why Microsoft's Surface Book is ticking off other PC vendors. Microsoft's stunning laptop, gives you everything you want—showing up all the vendors who said it couldn't be done.
Our review bears that out. Want a true laptop experience that doesn't compromise? The Surface Book does it in an attention-catching fashion. Want to detach your monitor and use it as a gorgeous, perfectly proportioned tablet with pen support so beautiful it'll have you sobbing? The Surface Book does that, too. Stupid-long battery life? Yup.
And if you want a real graphics chip in an ultrathin chassis—something every other computer maker says couldn't be done—yeah, Surface Book's got that too.
In a word, dayum.
For this review, we had access to two Surface Books. The first featured an Intel dual-core Skylake Core i5-6300U, 8GB of LPDDR3 in dual-channel mode and a 512GB M.2 PCIe SSD drive and integrated graphics only. The second Surface Book had the real deal: A dual-core Skylake Core i7-6600U, 16GB of LPDDR3 and the Nvidia graphics chip under the keyboard.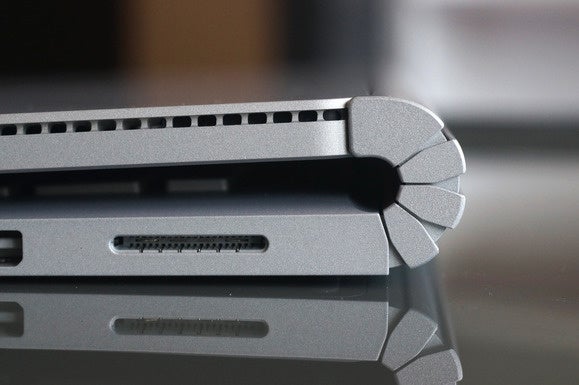 The hinge on the Surface Book isn't done for pure bling, Microsoft says it keeps the entire laptop from flopping over. Credit: Gordon Mah Ung
Dat Hinge
Of course, the most striking feature of the Surface Book is its dynamic fulcrum hinge. It's a little reminiscent of the watchband hinge Lenovo uses on the just-announced Yoga 900, but a lot beefier looking. Open the lid on the Surface Book, and the hinge unrolls. Microsoft says the unique mechanism allowed the company to balance the heavy display, which Microsoft calls the Clipboard, without upending the keyboard base. Other designs I've seen keep the laptop from flopping back on its head by tilting the keyboard up when open.
The hinge is fairly stiff. Trying to bend it without the Clipboard attached will take some strong hands. With the Clipboard attached, it's stiff enough that you can make fairly precise screen angle adjustments.
There is a little bit of screen flop that isn't present, on say, HP's Spectre X360, or Dell's XPS 13. But to be fair, the screen in this case is a lot heavier because it's a fully functioning computer.
Here's another difference: With other 2-in-1 detachables, you unhook the tablet from the keyboard with a plastic button or slider, and yank it off. With the Surface Book, you press a dedicated button on the keyboard for a few seconds. Inside the machine, you'll hear and feel a clunk, then you just lift it off.
1 2 3 4 5 6 7 8 9 10 11 Next Page