Sony Xperia X Performance review: You deserve a lot more phone for $700
Seriously, Sony? The Xperia X Performance performs well enough, but it's absolutely not worth its outrageous price tag.
A shot from New York City's High Line. Notice the extreme overexposure toward the top of the photo because of the glare off of the glass buildings.
The Xperia X Performance produced an OK shot during a dreary day, though a little more contrast could have helped it pop.
These flowers were especially vibrant in real life... but not so much here. Again, notice how overexposed the sky is.
I was really hoping for better low light performance, but alas.
There's not much difference in camera performance between the Xperia X and Xperia X Performance. I was disappointed with the photos produced by the mid-range Xperia X during testing, so, for a recent trip, I brought along an extra phone in case the Xperia X Performance starting failing me as well. But, thankfully, Sony's higher-end model was good enough. The Performance's processor bump helped the camera app run more smoothly, and the phone didn't shoot blurry, glitchy photos like the Xperia X.
Even in our lab test, you can see the Xperia X Performance's propensity to over expose in bright light.
The Xperia X Performance is decent in low light as long as you can hold the phone perfectly still. Here it's buckled in to a tripod.
Still, you'll have to contend with Sony's awful, bloated camera apps, weird augmented reality add-ons, and limited manual mode. If you're really considering this phone for whatever reason, I suggest going third-party with the camera app, too. I've even put together some suggestions!
What is up with these ads?
The Xperia X Performance's interface is simple enough, but far from what I'd call a near-stock Android experience.
The Xperia X Performance runs the latest version of Android Marshmallow 6.0.1 with Sony's own user interface on top. But like the Xperia X, it has a number of ridiculous "recommended applications" taking up space in the app drawer. You can easily ditch these by installing another launcher or by throwing your phone out the window, though I'd caution strongly against the latter choice, considering the cost of the phone.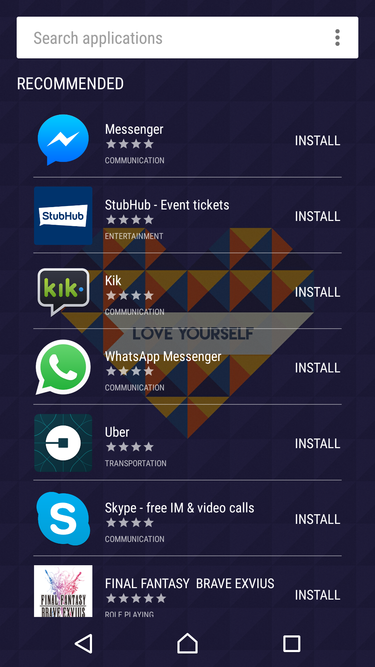 The mere existence of this is agravating.
In all seriousness, I'm bummed that the Xperia X Performance doesn't run the simple Marshmallow interface that Sony teased late last year. Hopefully, Sony will get rid of this weird interface add-on in a future software update.
Previous Page 1 2 3 4 Next Page