Six months in, Google's Project Fi remains an enigma
Google says it wants to accelerate the growth of its mobile experiment in the new year, but it may need more phones and a tablet or two for a wider reach.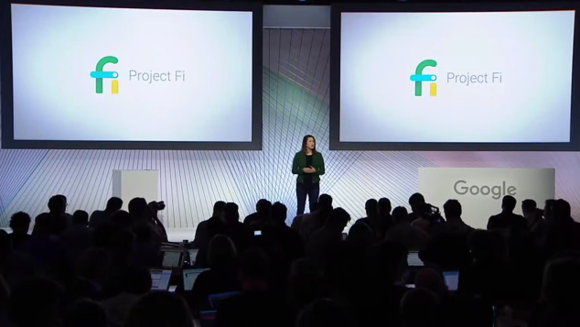 Google's Sabrina Ellis announced the Nexus 6P and 5X would work with Project Fi at the phones' unveiling in September. Credit: YouTube
There's also yet to be a tablet launch on Project Fi. Given that Google said "devices" with its future rollout we could see the Nexus 9 or a forthcoming Nexus tablet appear as Project Fi options. It would be a good way for someone who doesn't want to ditch their phone plan to dabble with Project Fi and see if they like how the service works. Again, Google wouldn't confirm this, but it would be a smart move.
There's always an escape plan
Google isn't afraid to pull the plug when something doesn't work. The latest example is Helpouts, a service the company shut down earlier this year. Google sought to build a unique platform where anyone could offer live video help over Hangouts.
The service didn't have much traction, so away it went. Similarly, Google could just shut down Project Fi if it doesn't work out or change the industry in any major way. You don't sign a service contract and can cancel your service with Project Fi at anytime, so Google could do the same.
Another sign to watch for is if Google brings in some type of family plan in 2016. That would be another sign of stability for the service, as it would indicate that subscribers are pressuring the Internet giant for more flexibility to add in family members.
The biggest impact to you (and the majority of those who don't have Project Fi) is in what Google will use from its experiment to further improve its services. Google already knows your location, web browsing, and search history. It could use the data available from Project Fi to further enhance services like Google Now or shopping offers. Or by having a host of data about wireless use habits, Google could very well be able to offer advertisers more specific information and fine-tune its location know-how.
For now, Project Fi looks very much like an experiment. It's one that's certainly for the early adopter who is willing to go all in with their Google Voice number and forego the traditional elements of a mobile plan like retail stores and family packages. Google's relative reticence about detailing upcoming details tells us the company might have a lot up its sleeve in the next year. All that makes Project Fi a mystery worth paying attention to.
Previous Page 1 2 3