Settings in iOS 9: Every notable change you need to know
Once you upgrade to iOS 9, take some time to peruse the Settings app to tweak it just to your liking.
The new Keyboard setting "Show Lowercase Keys" means that your software keyboard will toggle between lower-case and upper-case letters so you can always tell what kind of letter you're about to type. Turn this switch off to keep the old always-capital keyboard from iOS 8.
Shake to Undo: You can finally turn off the shake-to-undo feature here.
Vibration: This master switch lets you turn off all vibration on your device, including those for emergency alerts.
Storage & iCloud Usage
This is a better-named version of "Usage" in iOS 8. (In iOS 8, this is where you'd see your battery usage, but that's moved to Settings > Battery in iOS 9.) This is where you'll manage the storage on your device, as well as the files and device backups you keep in iCloud.
Restrictions
This is where you can restrict certain things: Say, if you were giving this device to a kid and didn't want them to have Safari or be able to install new apps or make in-app purchases. Two notable options here include switches to disable Apple Music Connect and the new News app. (Hey Apple, when can I ditch other built-in apps like Stocks?) And if you hate apps asking you if they can connect to Facebook, go to Restrictions > Facebook, and tap Don't Allow Changes.
Touch ID & Passcode
This Settings menu in iOS 9 contains a couple of new switches to allow access to the Wallet app (formerly Passbook) and to Reply With Message from the lock screen.
Battery
The all-new Battery menu lets you manually enable Low Power Mode. (Your device will also offer to go into Low Power Mode when you reach 20 percent battery remaining, and again at 10 percent.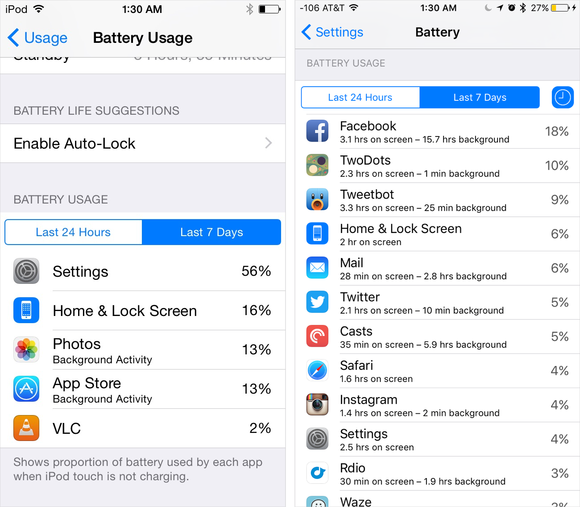 iOS 8 on the left. iOS 9 on the right.
You can also see which apps have been gobbling up the most of your battery life, by percentage. iOS 9 has a new little clock icon; tap it and you'll also see how much time each app has been running, both on your screen and in the background. I had no idea Facebook ran in the background so much.
iCloud
The iCloud settings have a new switch to sync the data in the News app between multiple iOS devices over iCloud. Note that News isn't currently available for Macs, but perhaps it will be someday.
Mail, Contacts, Calendars
Scroll down to the Contacts section of this menu for a new switch: "Contacts Found in Mail." This is on by default, and it lets your iPhone scan your email (on the device, not sending it up to the cloud) looking for contact information like phone numbers and email addresses. That way, it can suggest auto-complete addresses in Mail, or make an educated guess on the incoming-call screen as to who's calling you, if that name and number aren't in your Contacts list yet but are stashed in your email. If you don't want this to happen, turn this switch off.
Previous Page 1 2 3 4 5 Next Page