Settings in iOS 9: Every notable change you need to know
Once you upgrade to iOS 9, take some time to peruse the Settings app to tweak it just to your liking.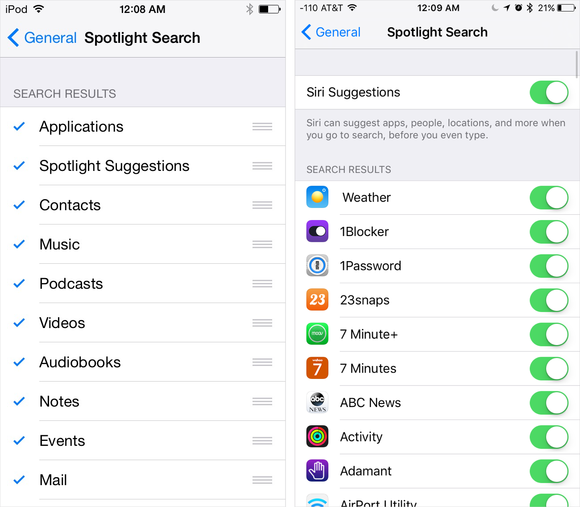 iOS 8 on the left. iOS 9 on the right.
Below, there's a list of everything that can come up in the search results, since Spotlight can now search inside of apps as well as content like your email, contacts, and calendars—well, once developers update their apps to take advantage of the new Spotlight Search API.
Note that one of your choices is Settings. iOS 9 lets you search the Settings app now, both from Spotlight and with a search bar right inside the app, which is a godsend when you can't remember where a particular setting lives.
Handoff & Suggested Apps
Handoff lets you pass a task from one device to another, for example starting an email on your iPad and finishing on your Mac. You can turn off this behavior here, and the setting hasn't changed since iOS 8.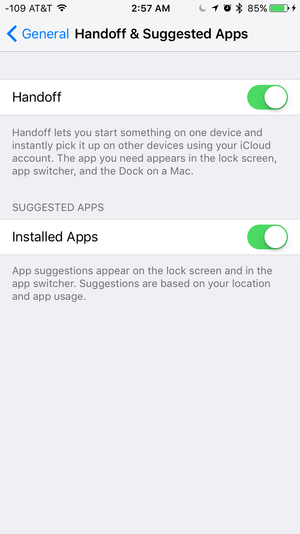 Suggested apps are shown on the bottom-left corner of your lock screen and in the app switcher, based on your location or usage patterns. For example, when you are near a Target or a Starbucks, those apps' icons will appear on your lock screen, assuming you have the apps installed and have given them permission to access your location.
In iOS 9, this gets one switch, labelled "Installed Apps." That means only apps you have installed will show up here. Aside from location, iOS 9 can suggest apps based on your patterns—when you plug in your headphones at the end of a workday, your phone could suggest the podcast app you usually listen to on your commute home.
iOS 8 had two switches here: One for My Apps, and another for App Store, which would allow your phone to suggest apps you don't even have. That option is gone in iOS 9.
CarPlay
iOS 9, like iOS 8.3 before it, supports wireless CarPlay connections, there's a CarPlay setting here to let you set up pairing between your car and your iPhone. Keep in mind that CarPlay is iPhone only—no iPads or iPod touches allowed. You have to have an iPhone 5 or later, running at least iOS 7.1, and wireless connections require iOS 9.
Accessibility
Quite a few small tweaks were made in General > Accessibility. This isn't a comprehensive list, just the biggest changes.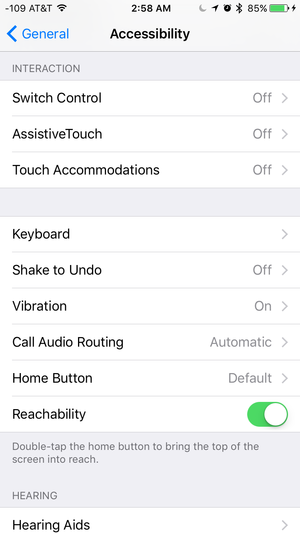 Touch Accommodations: This all-new menu in iOS 9 lets you tweak behaviors like how long you have to touch the screen to register a tap-and-hold, the duration in which multiple touches should only register as a single touch, and so on. If your normal touches and swipes don't always result in the intended action, some experimenting with these controls could really help.
Previous Page 1 2 3 4 5 Next Page