Settings in iOS 9: Every notable change you need to know
Once you upgrade to iOS 9, take some time to peruse the Settings app to tweak it just to your liking.
Notifications
Notifications settings didn't change a lot, but there is a new sort order: Recent. When you select that, you'll see the notifications in reverse chronological order, meaning the newest one is always on top. That's great for when you notice a banner just as it's going away, or when you hear your phone beep from across the room.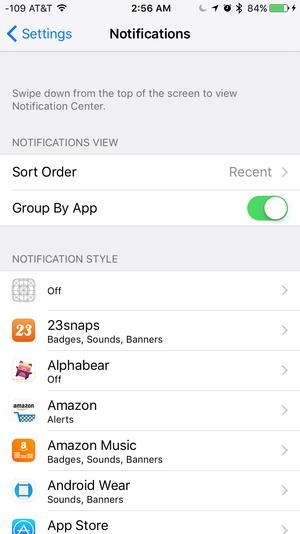 In Recent mode, you also get a switch for Group By App, which means each app's notifications will appear together, newest on top. When a newer notification comes in, all the notifications for that app will jump to the top of the list. If you don't group the notifications by app, they'll be grouped by day, letting you dismiss an entire day's worth of notifications at once.
If you always want a certain app's notifications on top, change Recent to Manual, and then you get a list of every app that sends you notifications, and you can slide them to your preferred order. Manual mode removes the Group By App switch, since Manual grouping always groups your notifications by app.
Below, is the list of your apps that have requested notifications, in alphabetical order. That makes it easy to find the app whose notifications you want to tweak, but the controls themselves haven't changed since iOS 8. You can still decide if notifications can appear in Notification Center, on the Lock Screen, or both, and if you want to be notified in the form of vanishing banners, must-be-dismissed alerts, a badged home screen icon, or a sound. Even without much change in the Notifications settings, it's a good idea to "audit" your notifications from time to time, since they lose their impact if you have so many coming in that you start ignoring them altogether.
General
A few small changes can be found in the General section of the Settings app:
Siri
You can change Siri's accent without having to change her language. The language settings in both iOS 8 and iOS 9 include English localizations for Australia, Canada, India, New Zealand, Singapore, the UK, and the US.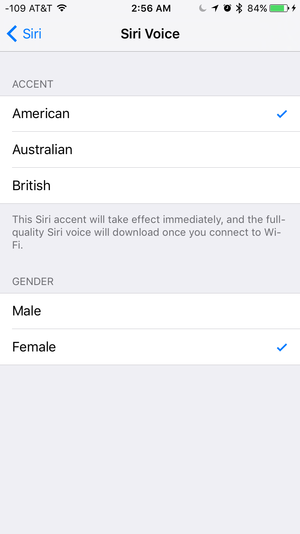 In iOS 8, you could change Siri's voice from female to male, but in iOS 9, you can choose both Siri's gender and accent: American, Australian, or British. (Yes, Siri can sound British even though your language is still set to United States English. Jolly good.)
Spotlight Search
The top toggle on this screen is Siri Suggestions. Turn that on, and the Spotlight page will come pre-populated with suggestions before you even search for anything. This is a great new feature of iOS 9, so you should definitely try it out, but if you ever find it annoying, you can turn it off here.
Previous Page 1 2 3 4 5 Next Page