Samsung+ makes it easy for novices to get help with their Samsung devices
Got a friend or family member who keeps calling you for tech support? You'll want to install this app on their device.

Need immediate access to customer support? You can call or video chat with Samsung+.
If the cause of your problem is something a little more serious, Samsung+ offers direct access to the big guns. In the Support tab, you can contact customer support by phone or video. I tested the Video Chat functionality one evening; it took about 30 seconds to make a connection, after which I was then greeted by a jovial, Scandinavian-looking woman. "Sorry, just testing out this feature," I told her. "Oh that's alright," she responded. "Are you sure there's nothing I can help you with?" I said no thanks and hung up. The feature works exactly like Amazon's May Day.
Free-ish stuff
Like the Galaxy Gifts app, the Samsung+ app also offers a couple of freebies in the Promotions tab. It's mostly music videos and behind the scenes looks at recent movies, though there are a few trial offers for things like a Rolling Stone subscription or extra storage space at Photobucket.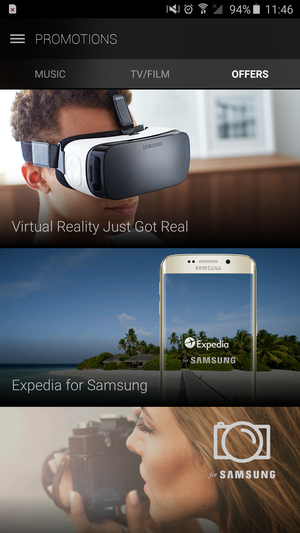 Samsung+'s free stuff is kind of....eh.
The free stuff is okay, but it exists primarily to entice you keep the app installed even when you don't need it. Frankly, I don't think it's worth keeping the application installed for the free stuff alone.
There should be more apps like this
After a little digging around, I realized this is totally an app that I should install on my mom's Samsung phone to keep her from coming to me first for tech help. It's not that I mind helping her, but I'm not always available, and I like the idea of her going directly to Samsung when she has a question about her device. If you're visiting with family this holiday season and they've got a Samsung device they're using, you might want to set them up with the app and instruct them to check with it first before hitting the speed dial on your number.
The existence of Samsung+ is good for brand loyalty, too. The idea that a company will support your journey with your new device is a relatively nascent concept for the Android world. Like the Android ecosystem, there is no one manufacturer making all of the devices, so it's not like there's just one place you can refer a family member or friend to if they're having an issue want to learn how to use their device. If Android is going to remain as fragmented as it is, perhaps other companies should follow suit so that those who aren't that familiar with the platform feel supported.