Review: The iPhone X is the best phone for business, period.
Apple's new iPhone X sets the scene for the next decade of iPhone development with a host of futuristic technologies. While expensive, it is the best smartphone available today.
The Bionic chipset also includes the first Apple-designed GPU, which is up to 30% faster than previous generations. It's tuned for Metal 2 and Core ML, yielding better graphics response times.
How powerful is the A11 Bionic? In some cases, benchmarks have it on par with Intel's Core i5-7267U, the CPU found in the 13-in. MacBook Pro. In real world use, the iPhone X is extremely responsive, but it's not just because of the faster six-core design. It's because Apple writes its own software and it can be optimized to take advantage of the custom hardware. For instance, when you're taking photos, images are analyzed instantaneously for better results with less noise. And for Face ID (or the Animojis), the Neural engine calculates image processing for people/object/location detection.
That's 600 billion operations per second that the main CPU-cores don't have to process, freeing them up for other tasks. The six-core chipset uses built-in iOS technologies to determine which cores — some or all of them — should be used, depending on the task at hand. These kinds of device-specific customizations are the result of years of work by Apple's hardware and software groups. Working together, they can boost efficiency and offer performance that doesn't come at the expense of battery life.
Qi-based wireless charging
While not specific to the iPhone X — the iPhone 8 and 8+ have it, too — wireless charging represents another step into the future by Apple. The Qi-based system requires little more than a wireless charging base, which are available at a range of prices. (Apple showcases two such chargers: one from Mophie, one from Belkin, both on the higher-priced end of the spectrum. It also plans to release its own charging pad in 2018.)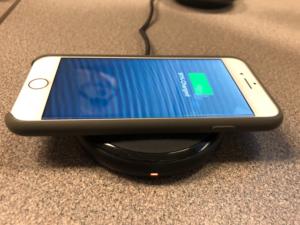 IDG/Ken Mingis
An iPhone 8 being charged atop a wireless charger from RavPower, which can transmit up to 7.5W of power.
Wireless charging has been available in some Android phones for several years, so Apple is tardy to this particular technology. But it does offer a new level of convenience and comes at a time when wireless charging plates are even being included in some new cars and found in public locations like airports and restaurants.
Though the Qi-based system allows for up to 15 watts of wireless charging, the iPhones can only be charged at 5W. That will rise to 7.5W when iOS 11.2 rolls out. This will give you a little more juice (literally, a few extra percentage points) compared to charging the same phone running iOS 11.1. Until this technology evolves, the Lightning connector isn't going anywhere; despite the convenience wireless charging brings, data transfers and battery charging are still much faster when the iPhone is physically plugged in.
Better cameras, front and back
Previous Page 1 2 3 4 5 6 7 8 Next Page