Review: The iPhone X is the best phone for business, period.
Apple's new iPhone X sets the scene for the next decade of iPhone development with a host of futuristic technologies. While expensive, it is the best smartphone available today.
Face ID is a revelation, and a real technological leap forward. For the sake of convenience, I hope it proves to be as reliable and secure as Apple thinks it is.
The best OLED display ever
The other hallmark feature of the iPhone X is its new 5.8-in. OLED display. Put simply: this is the best display I've ever used, and certainly the best display on any iPhone ever released. With earlier iPhones, animations and content felt like they sat behind a glass surface; the iPhone X's display makes content look impossibly close to the surface, so much so it's mind-blowing. It feels like a real-life visual effect.
The OLED screen is a capacitive multitouch display with a resolution of 1125 x 2436 pixels. It's the densest pixel cluster of any Apple product to date, at 458 pixels per inch. (For comparison purposes, the Samsung Galaxy S8 and S8+ OLED screens offer 570 ppi and 529 ppi, respectively.) The iPhone X's Wide color display (P3) is Dolby Vision and HDR10 compliant, which means colors are vivid and sharp, while still offering more subtle hues for rich detail in photos, video and on-screen elements without over- or under-saturation. This results in more true-to-life color reproduction, with super deep blacks. (Tech specs for this display indicate a 1,000,000:1 contrast ratio.)
The black level is one of the things that makes OLED screens unique. Each pixel is either on, showing color, or off, showing black. The contrast is obvious when comparing the iPhone X display to a non-OLED screen. Even when it's displaying "black," an LCD screen is showing some minimal amount of light because the backlight is always on.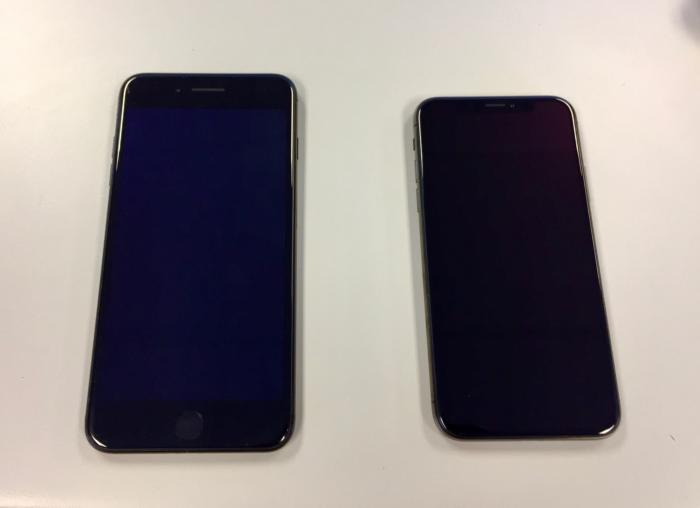 Michael DeAgonia
Though it's subtle, the iPhone 7+ (left) still shows some on-screen light when displaying a black image. The iPhone X (right) with an OLED display, shows true black.
Apple is clearly focused on how the new display looks. Every iPhone X panel is calibrated at the factory to Apple specifications — something not done on other phones — resulting in consistent viewing experiences for iPhone X users; what you see on one iPhone X is exactly what you'll see on another.
DisplayMate ran the iPhone X's Super Retina display through a bank of tests and concluded: "Based on our extensive lab tests and measurements, the iPhone X becomes the Best Performing Smartphone Display that we have ever tested, earning DisplayMate's highest ever A+ grade. The iPhone X is an impressive display with close to Text Book Perfect Calibration and Performance."
The display is packed with technology designed to make staring at it easier on the eyes, including True Tone, Night Shift (for night-time use), the 120Hz touch layer (for incredibly smooth reaction to screen presses and gestures), and technology to minimize long-term burn-in — something all OLED screens are susceptible to.
Previous Page 1 2 3 4 5 6 7 8 Next Page