Review: The iPhone X is the best phone for business, period.
Apple's new iPhone X sets the scene for the next decade of iPhone development with a host of futuristic technologies. While expensive, it is the best smartphone available today.
Face ID is a deceptively simple facial recognition system enabled by the True Depth camera setup hidden in the much-discussed notch at the top of the screen. To authenticate, you don't do anything you weren't already doing: just look at the display. It's almost instant, and there's no other action necessary. It's a much more passive system than Touch ID — which is still in use on the iPhone 8 and 8+.
The Face ID system can't be fooled by photos, and shouldn't be susceptible to being spoofed by masks. According to Apple, Face ID has a one-in-1-million fail rate — 20 times better than Touch ID. The setup process, done when you first use the phone, is quick and easy — less complicated even than setting up fingerprints for Touch ID.
Though Face ID is theoretically more secure than Touch ID, it didn't take long for people with similar-looking friends and family — as well as mask-makers with a 3D scanner/printer — to defeat it. In the two weeks I've had my iPhone X, nobody else has been able to get into it; clearly, your results may vary.
Note: You get only five unsuccessful match attempts before you'll need to use your passcode to unlock the phone. Keep that in mind when showing off Face ID to co-workers.)
IT departments should pay close attention to this, since Face ID is used not just to log into the phone, but to authenticate payments, transactions, and purchases and even access passwords. If it ultimately proves to be vulnerable to exploits, companies can (and should) set a policy to disable the feature and make sure they're using strong passwords. (Complex passwords should be part of corporate security policies either way.)
Touch ID encouraged the creation of strong passwords because it wasn't necessary to type out that password each time; a touch of the finger on the Home button was enough. As a result, I used passwords and lockouts everywhere I could, keeping my iPhone 7+ a bit more secure.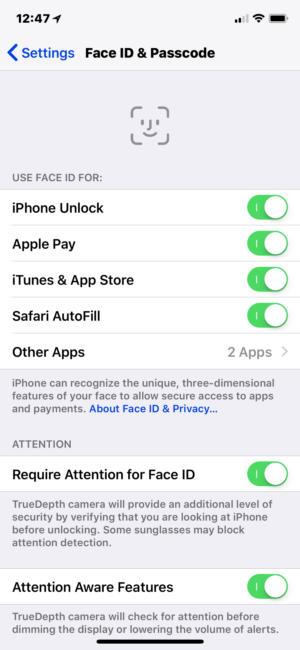 Ken Mingis
Face ID, Apple's new facial recognition system for authentication, can be used in a variety of ways for better security.
Because Face ID requires even less effort than Touch ID, it's enabled me to make my phone more secure. For example, I've been able to better lock down access to features like Siri, home control and the Control Center when my iPhone X is locked. (These changes can be made in the Face ID and Passcode section of the Settings app.)
Basically, I turned off access to all of the features when my phone is locked. Now, no stranger can use Siri to make phone calls from the Lock Screen, or see what my notifications say, or even invoke the Control Center. But I can, because Face ID authenticates at a glance when I look at the phone. That means I — and only I — can access these functions from the Lock screen. This is a security step IT admins should consider when provisioning devices.
Previous Page 1 2 3 4 5 6 7 8 Next Page