Review: The iPhone X is the best phone for business, period.
Apple's new iPhone X sets the scene for the next decade of iPhone development with a host of futuristic technologies. While expensive, it is the best smartphone available today.
(Apple details its security efforts in this PDF. And it offers info about device deployment, enterprise app integration, and device management at scale.)
What makes the iPhone X the best phone for business is iOS 11 and the aforementioned security, privacy, and accessibility features. What makes the iPhone X the best smartphone in general is the amount of technology Apple has managed to pack into it.
What's new in the iPhone X?
The iPhone X, which weighs 6.14 oz. and slots in between the iPhone 8 and 8+ in terms of size, gets a wealth of new technologies in a less-familiar form factor. It's unfamiliar because the all-display X eliminates the iconic Home button, effectively replacing it with several new on-screen gestures that users will need to learn to navigate to the home screen and between apps. (The gestures quickly become second nature.)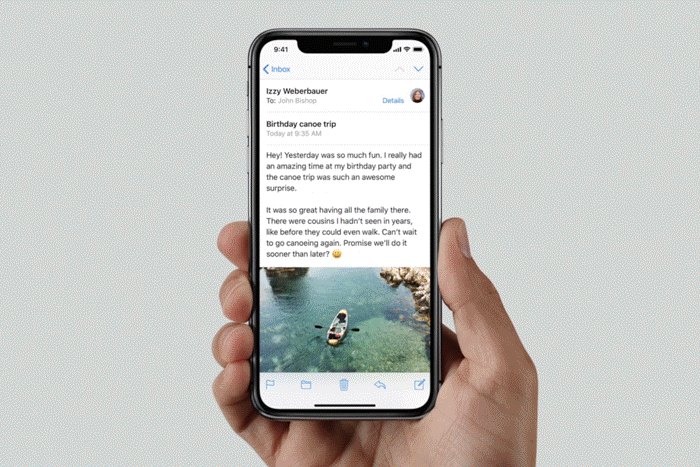 Apple
The new OLED display reaches right to the edge on all sides except at the top and is framed by a stainless steel band. Silver models get a mirror-shine stainless steel band; the Space Gray models are wrapped in a dark band color-matched to the rear of the device. The back panels are an intentionally minimal silvery white or dark gray beneath a sheet of glass that some users find slippery. Other than the Apple logo and the iPhone name, the only thing else is the protruding bump for the dual camera lenses and True Tone flash.
As before, the iPhone has a mute switch plus volume up/down on the left side and a sleep/wake button on the right side (which is actually a little longer this year). The removal of the Home button means that the Sleep/Wake button picks up new tasks. Tapping it will wake or sleep the display, as before, but holding the button down invokes Siri. A double-tap brings up Apple Pay authentication. And holding down this button as well as any of the volume buttons (in effect "squeezing" the iPhone X) invokes three options: Slide to power off, Medical ID, or Emergency SOS. It also disables Face ID, requiring you to use your password to access the phone before Face ID will work again.
With the Home button — and the fingerprint-based Touch ID — gone, Apple has turned to Face ID for authentication. Face ID relies on some of the most advanced tech on the market and is the future of authentication for Apple products. (There are already rumors that it will be included in upcoming iPads next year.)
Using Face ID
Previous Page 1 2 3 4 5 6 7 8 Next Page