Review: Samsung Galaxy S7 and Galaxy S7 Edge -- the new phones to beat
Samsung's latest flagship Android smartphones are waterproof, well designed and have an interesting UI. But there are no unlocked versions in sight.
When you pull down from the top of the screen, you'll see the usual set of notifications, along with a horizontal row of well-chosen quick-access settings buttons: Wi-Fi, Location, Sound, Auto-rotate and Bluetooth. Pull down again, and rather than the usual full Settings menu, you're presented with four rows of customizable quick-access settings buttons. If you want something that isn't in that matrix, you can click on the gear, as usual, to forage through the Android settings list.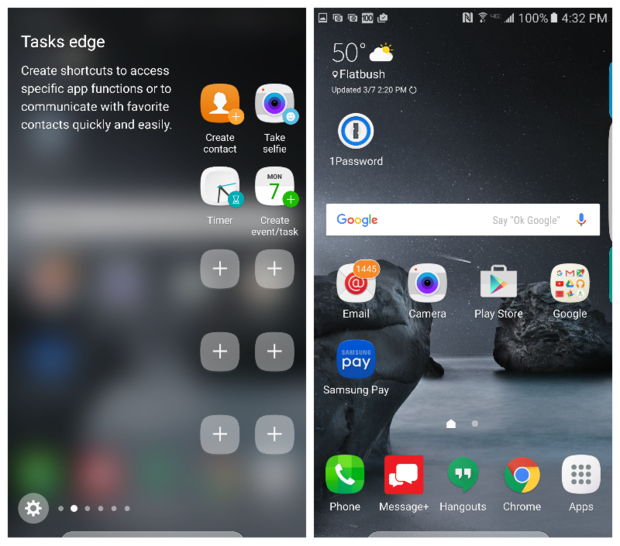 (Left) Dragging from the screen edge of the S7 Edge brings up a set of quick-choice icons. (Right) The TouchWiz flavor of Android 6.0 puts the Google entry box a third of the way down the page and the Apps drawer at the bottom right.
TouchWiz does a bunch of tricks to shrink the effective size of the screen for one-handed operation. On the Home screen, the Google entry window is a third of the way down the screen, rather than at the top. The Apps launcher is on the right of the lower row, rather than in the middle.
Maybe the neatest trick, though, are the keyboards. Samsung has taken advantage of its high pixel count and resolution to shrink the keyboard in a way that doesn't force you to reach all the way across the screen to type with one hand. The keyboard stretches about three-fourths of the way across the screen (and includes a fifth numeric row), which makes it easy to type one-handedly. And best of all, you can choose which side of the phone the keyboard appears on, making life easier no matter which hand you type with. It is truly a beautiful hack.
It takes a while to figure out that with TouchWiz, the Google Now interface isn't accessed by swiping right, the way it is in stock Android. Swiping right does nothing unless you've set up what appears to be an immovable Flipboard widget. If you want Google Now cards, tap in the Google search bar on the Home screen.
The most annoying part of TouchWiz comes in the worst possible place: When you're setting up your phone. On a Verizon phone (our review units were on Verizon), there are no fewer than three ecosystems you need to opt into -- or not. First comes the My Verizon cloud, which wants to control your SMS, photos and contacts. Then there's Google, which is necessary because Android pretty much requires access to Google. Lastly, you're asked to create a Samsung account "to get the most out of your device," which seems to entail downloading Galaxy apps including S Health and unexplained "enhanced features."
Previous Page 1 2 3 4 5 6 Next Page