Review: HP EliteBook Folio G1 offers lightweight business computing
HP's latest Windows 10 laptop comes in touch and non-touch versions; it offers a bright display, great keyboard and a variety of options.
If you're looking for a lightweight, portable laptop -- but aren't interested in a tablet with a snap-on keyboard such as the HP Elite x2 -- HP's 12.5-in. EliteBook Folio G1 makes the most of the traditional notebook design. The company has built an excellent display and keyboard into one of the smallest and lightest systems around.
I spent a week with a pair of Folio systems: The full HD non-touch model that ships with an Intel Core M7 processor, 8GB of 1.86GHz DDR3 RAM and a 128GB SSD for $999 (vendor price); and the UHD WVGA touch-screen model that includes a sixth-generation Intel Core M5 processor, 8GB RAM and a 256GB SSD for $1,799 (vendor price). Several other configurations are also available.
The Folio family's 12.5-in. displays are a study in contrasts. The UHD touch system (3840 x 2160) offers a four-to-one advantage in showing details compared to the full HD (1920 x 1080 resolution) model. This became apparent when I zoomed in on an 11.3-megapixel photo of my yard and saw leaves that weren't visible on the HD screen.
It's also much brighter, with the full HD version providing a reasonable 306 candelas per square meter versus the UHD's impressive 411. This makes HP's touch display one of the brightest, richest and most vivid screens on the market. I found it still quite usable when I set it at half its brightness.
Under the surface, both systems have Intel's Graphics 515 video accelerator with 128MB of dedicated memory. They can each draw upon up to 4.02GB from system memory for a total of 4.15GB of video memory available. This is just as good for working with intricate images or CAD designs as for playing a video game.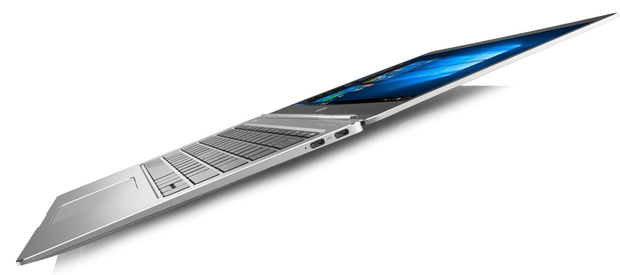 The Folio can lie flat on a surface, allowing you to "fingerpaint" on the touch screen. Credit: HP
The Folio's piano lid hinge allows the screen to be opened all the way so you can unfold the whole system flat on a table. This makes "fingerpainting" with the touch version easy -- I comfortably drew a map and sketched a flow chart.
The touch screen responds to 10 independent touch inputs and works with a generic stylus. Unfortunately, when the screen was open beyond about 45 degrees, I ran the risk of tipping the system over if I tapped too hard. Overall, I felt that the display wobbled a bit while tapping, swiping and pinching the screen.
Above the display is a 720p webcam that works with Microsoft's Hello facial recognition log-in.
All Folios come with an aluminum case with a soft finish to it. The laptop measures 11.5 x 8.2 x 0.5 in.; the non-touch model weighs a very light 2.4 lb. (2.8 lb. with its small AC adapter) while the touch model weighs 0.1 oz. more.