Review: 5 prepaid mobile hotspots fire up business travel
Fed up with mediocre Wi-Fi on the road? For not-so-frequent travelers, a pay-as-you-go personal hotspot might be the answer. We put five to the test.
On T-Mobile's website, you need to pick a plan, which the company calls a Data Pass, then enter your personal data and a credit card. T-Mobile doesn't take PayPal or Bitcoins for payment. It takes a minute to activate and then it's online.
An 802.11n router that supports 10 users, the Z915 had a range of 85 feet in my tests -- 25 feet shorter than the Karma Go but 10 feet longer than the AT&T Unite Express. It should be fine for a group working in a conference room. It ran for 7 hours and 50 minutes on a charge, landing in between the long-lasting Verizon Ellipsis and the short-lasting Karma Go.
Of the four networks here, T-Mobile is catching up to the Big Two and has good coverage on the east and west coasts. It ignores places like Billings, Mo. and Boise, Idaho in the heartland, but has coverage in Denver and adds Mexico and Canada to the mix. Lacking a 4G signal, the Z915 will use T-Mobile's older and slower 3G network.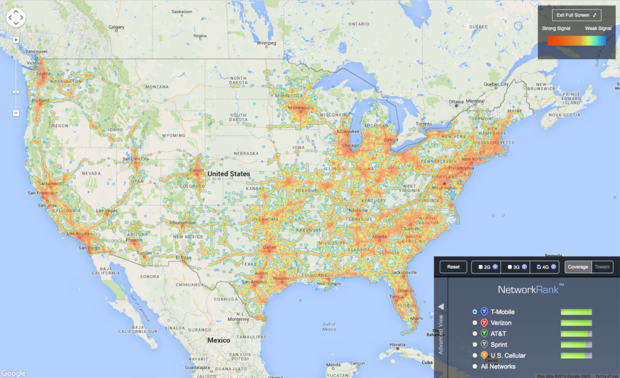 T-Mobile's U.S. LTE network as mapped by OpenSignal. (Click to expand).
At a Starbucks in suburban Connecticut, the T-Mobile network blew the others away with a peak download speed of 43.4Mbps; its peak upload speed was 18.8Mbps. Unfortunately, at 11.9Mbps and 3.1Mbps, its average download and upload speeds weren't nearly as good, trailing slightly behind the Verizon Ellipsis and well behind the AT&T Unite Express.
Its latency is a concern. With an average wait time of 90.4ms, it had the highest latency of the bunch and twice that of AT&T's network -- which means you'll spend more time waiting on Web pages to fully load.
The $110 price tag for the Z915 is more than twice what Boost charges for the Netgear Fuse or what Verizon charges for the Ellipsis. On the other hand, T-Mobile has flexible rate plans with daily, weekly or monthly Data Passes that go for $5 (500MB per day), $10 (1GB per week), $30 (3GB per month) or $70 (11GB per month). The data expires at the end of the time period.
If you're lucky and live and work in areas that T-Mobile covers well, this is a bargain. Still, the network needs to speed up and widen its scope for it to be a player.
At a Glance
T-Mobile
Price: $110 for hardware; plans range from $5 (500MB)/day to $70 (11GB)/mo.
Pros: Daily, weekly and monthly plans; Canadian and Mexican coverage; supports 10 users; low data prices; excellent navigation
Cons: Big and heavy; monochrome screen; poor network coverage; highest latency
Previous Page 1 2 3 4 5 6 7 8 9 10 11 12 13 Next Page