Review: 5 prepaid mobile hotspots fire up business travel
Fed up with mediocre Wi-Fi on the road? For not-so-frequent travelers, a pay-as-you-go personal hotspot might be the answer. We put five to the test.
Think of the Karma Go as the social butterfly of the hotspot world. At $149, it's nearly three times the cost of the Boost Fuse or the Verizon Ellipsis Jetpack, but can help make friends while delivering data.
At a Glance
Karma
Price: $149 for hardware; plans range from $14 (1GB) to $100 (10GB) (data does not expire) or $50/mo. for unlimited data
Pros: Data doesn't expire; has top Wi-Fi range; light weight; bonus data given for sharing device
Cons: Slow data speeds; doesn't include AC adapter; short battery life; no encryption; expensive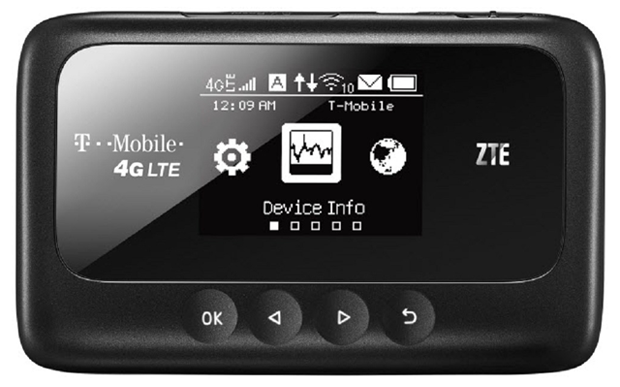 Credit: T-Mobile
Easily the largest and heaviest of the five, T-Mobile's 4G LTE HotSpot Z915 offers business travelers inexpensive data and the ability to connect in Canada and Mexico. Ultimately, though, the network can't compare with AT&T's and Verizon's on scope and speed.
At 4.2 x 2.6 x 0.7 in., the 5.1-oz. Z915 personal hotspot is big, bulky and heavy compared to the diminutive Verizon Ellipsis hotspot. (That said, it still fits into a jacket pocket.) Made by ZTE, the Z915 is charged with either a micro USB cable or the included AC adapter.
Behind a flap on the edge of the unit, there's a SIM card slot and a recessed reset button, which are next to the on/off button. On the front, the Z915 has four navigation keys that can be used to select an item, go left or right or go back a page.
Of the five, it's the easiest to maneuver, with screens for Settings, Software Update, Device Info, Connection Info and Connected Device. This allows you to do things like see how much data you've used or adjust when the screen times out directly from the device.
You can still go to the hotspot's Web pages by typing mobile.hotspot into a browser window. There, you can see who's connected, how much data remains and when you used it.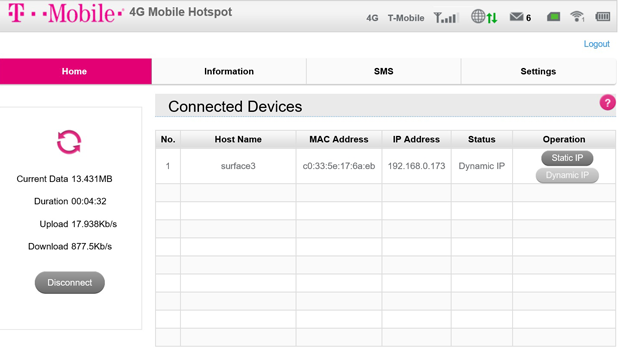 The main screen for the Z915 shows everything you need, from what's connected to how much battery life remains.
While its 1.9-in. screen is the largest of the bunch, it can only show black and white and can't compare to the bright and colorful screens on the Netgear-made hotspots from AT&T and Boost.
Setup and performance
Getting the Z915 online took me about eight minutes. It starts with connecting the device to a client. The Z915 comes unencrypted, so is inherently insecure out of the box; I recommend setting a passcode as soon as possible. (It supports up to WPA2 encryption.)
Previous Page 1 2 3 4 5 6 7 8 9 10 11 12 13 Next Page