Review: 5 prepaid mobile hotspots fire up business travel
Fed up with mediocre Wi-Fi on the road? For not-so-frequent travelers, a pay-as-you-go personal hotspot might be the answer. We put five to the test.
Boost's Fuse is for those who travel where Sprint has service and who have high data needs.
At a Glance
Boost Mobile Netgear Fuse Mobile Hotspot
Boost Mobile
Price: $50 for hardware; plans range from $25 (1.5GB) to $50 (10GB)/mo.
Pros: Inexpensive; good-value 10GB data plan; screen shows data usage; external antenna ports; supports 10 users
Cons: Poor network performance; skimpy network coverage in some areas; data expires at end of month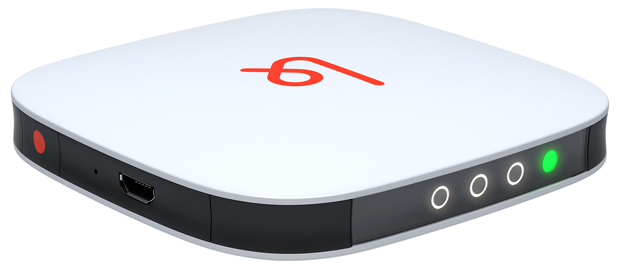 Credit: Karma
The Karma Go is unlike any other hotspot -- it actually encourages you to share your data stream with others. This may show generosity, but it may not suit security-minded business travelers, especially because it doesn't encrypt its data stream.
At 2.9 x 2.9 x 0.5 in., the Karma Go has heavily rounded corners, making it look like a white hockey puck and allowing it to easily fit into a shirt pocket. It weighs 2.8 oz., making it slightly heavier than the Verizon Ellipsis Jetpack MHS800L and a couple ounces lighter than T-Mobile's 4G LTE HotSpot Z915.
On its edge are an on/off button and a micro USB port for charging. While it comes with a short charging cable, the package doesn't include an AC adapter. It's the only one of the five to lack this essential piece of equipment, although you can buy a generic one for about $5.
Visually, the Karma Go stands out because it does without the info screen that the others have. Instead, the Go has a series of small circles on one edge that convey what's going on inside. The three open circles act as a signal-strength meter, lighting up in white to show how strong a link to the Sprint data network you have. On the right is a colored-in circle that acts as a battery gauge, glowing green for a full charge, orange for 67% charge, red for 33% remaining and white when the device is asleep.
Setup and performance
To get going, connect the Karma Go via Wi-Fi to a Windows, Mac OS X, iOS or Android client using the "Karma Wi-Fi" network name. You'll need to create an account and enter credit card details; Karma also lets you pay with PayPal and even Bitcoins. New accounts get an instant 100MB of data. Setup took me seven minutes from start to finish.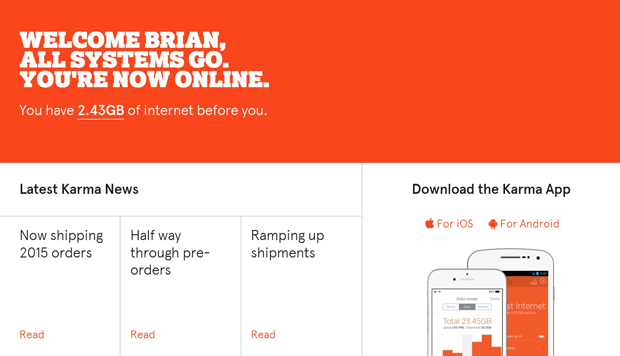 Getting confirmation for Karma service.
If you're using a laptop, the Go connects you to a Web page; if you're using a phone or tablet, you'll need to get a free app for iOS or Android. Using the website or the app you can see things like how much data you've used, how much remains and your history of data usage; you can also pay for more data. However, the site and app lack a battery gauge and details like how many clients are connected.
Previous Page 1 2 3 4 5 6 7 8 9 10 11 12 13 Next Page