Review: 5 prepaid mobile hotspots fire up business travel
Fed up with mediocre Wi-Fi on the road? For not-so-frequent travelers, a pay-as-you-go personal hotspot might be the answer. We put five to the test.
Like the others, it's charged via a micro USB port and, unlike the Karma Go, includes an AC adapter and cable. It also has a pair of ports for external antennas (sold separately) for when reception really counts.
In addition to an on/off button, the Unite Express has a 1.7-in. color info screen that shows the battery charge level, signal strength and whether it's connected to a 4G network. It doesn't show how much data has been used, which the Boost Fuse does.
To see how much data you have remaining, you'll need to type att.com/mygophone into the Web browser of a device that's connected to the Unite Express. You'll also find a slew of configuration details and options, including the Wi-Fi network name and encryption passcode, as well as a link to refill your data account.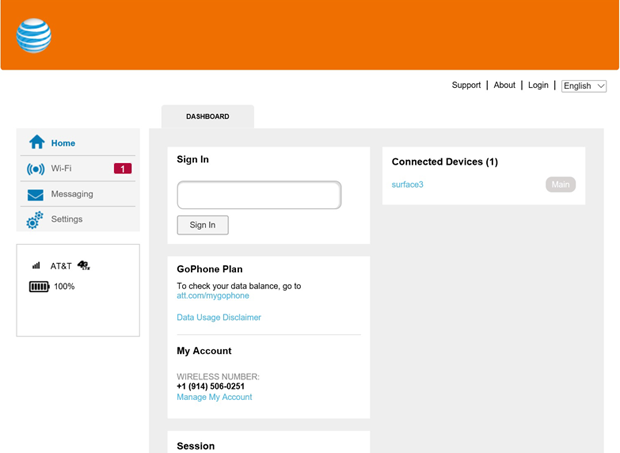 Everything from your phone number to settings and a link to your account balance are on the Unite Express hotspot's Web page.
Setup and performance
Of the five hotspots tested here, the Unite Express is the most complicated to get from sealed box to full operation. To set the hotspot up, you'll need to enter its SIM card and IMEI numbers into the online form on AT&T's GoPhone prepaid website. Then pick a rate plan and pay for it with a credit card. (Sorry, no PayPal or Bitcoins allowed here.)
AT&T then sends an email with a temporary password for the hotspot, which shows up on its screen. Finally, you'll need to change the password again to something of your choosing. All told, it's a 15-minute process, versus a few minutes for most of the others.
Inside the Unite Express is an 802.11n router that supports WPA2 encryption and works with as many as 10 clients at a time. In my tests it had a disappointingly short 75-foot Wi-Fi range. On the other hand, it lasted a reasonable 8 hours and 35 minutes on battery power -- 15 minutes short of the similar Fuse's run time and one third shorter than the Verizon Ellipsis Jetpack's 12 hours and 45 minutes.
Like Verizon, AT&T has an extensive LTE network with a profusion of cell sites on both coasts and many in the middle as well. It covers places like Coeur d'Alene, Idaho, which others don't. If the 4G network isn't available, the fallback is AT&T's 3G network, which is more extensive but much slower.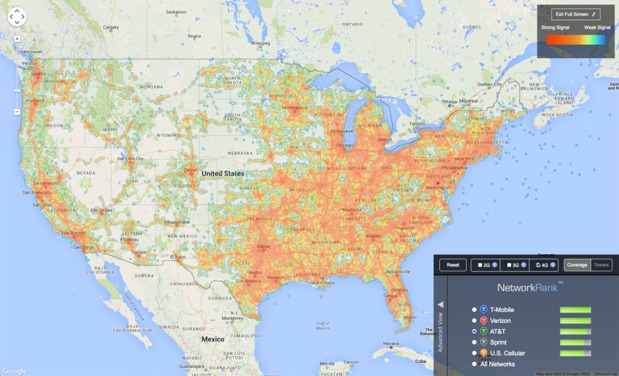 AT&T's U.S. LTE network as mapped by OpenSignal. (Click to expand).
The hotspot that best combines network service with hardware capabilities, the Unite Express had a clean sweep of the network performance tests. Its 45.7ms latency represented about half the wait-time of T-Mobile's network. Its peak upload speed was 15.7Mbps, and it had an average upload speed of 10.2Mbps. That's well ahead of the Verizon and T-Mobile units, and several times the speeds that Sprint delivered via the Boost and Karma devices.
Previous Page 1 2 3 4 5 6 7 8 9 10 11 12 13 Next Page