Review: 5 prepaid mobile hotspots fire up business travel
Fed up with mediocre Wi-Fi on the road? For not-so-frequent travelers, a pay-as-you-go personal hotspot might be the answer. We put five to the test.
His advice is to first pick the network that suits your travels geographically, because even the best online device is worthless if there's no network where you need it. I recommend starting at the carrier's website to see if they operate in the general area you want. Then, go to OpenSignal's crowdsourced coverage maps and zoom in on a few places you think you'll be traveling to see in detail if the carrier's service is good.
Finally, you'll need to pick the service plan that best matches your needs. Don't worry, it's a lot easier to up- or downgrade your prepaid hotspot service plan than with a traditional hotspot or phone plan.
Each network has a different view of how data access should be structured. Karma, for instance, offers data for no set time period; just add more data when you need it. By contrast, AT&T still requires a monthly data budget for prepaid plans, but you can turn it on and off as your travel plans change, as well as add data at any time.
While this might be confusing, we're here to help with a lab test drive that attacks this issue from three sides. I compared the prepaid plans available with each device, focusing on price and flexibility. I took a look at the hardware, noting size and weight and testing the devices' battery life and Wi-Fi range. And I did extensive testing of the 4G networks that they operate on by connecting the five hotspots to everything from a Windows PC and a Mac to Android devices and iPads in 20 separate locations over a six-week period.
One caveat, though: The network testing was performed on the east coast, from New Jersey to Maine, where even the flimsiest 4G networks are the strongest. Your experience may be different, particularly if you live in the plains or mountain states. But one thing is certain: With a personal hotspot along on your next trip, chances are you won't have to suffer with a hotel's dismal Wi-Fi service.
AT&T Unite Express for GoPhone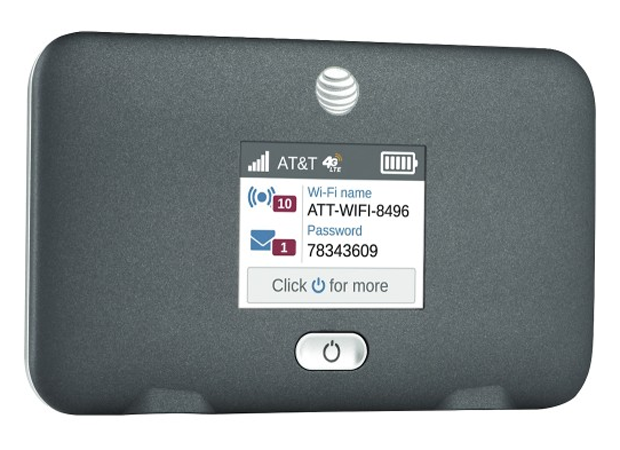 Credit: AT&T
It may not be the smallest or longest-lasting hotspot, and it is far from the easiest to set up prepaid service for, but AT&T's Unite Express delivers the hotspot goods. It connects over a reliable and wide-ranging 4G data network, putting data where it's needed: on your screen.
Measuring 4.4 x 2.7 x 0.6 in. and weighing 4.5 oz., the black Unite Express is near the high end of the size and weight spectrum for hotspots but still significantly smaller and lighter than T-Mobile's Z915. It easily fits into a jacket pocket. If you look carefully, the Unite Express bears more than a passing resemblance to the Boost Fuse hotspot. Both come from Netgear and match each other's spec sheet; the biggest difference is that the Boost Fuse has a glossy finish and AT&T's Unite Express has a soft rubberized coating.
Previous Page 1 2 3 4 5 6 7 8 9 10 11 12 13 Next Page