Review: 5 prepaid mobile hotspots fire up business travel
Fed up with mediocre Wi-Fi on the road? For not-so-frequent travelers, a pay-as-you-go personal hotspot might be the answer. We put five to the test.
The Ellipsis uses Verizon's LTE network, which has the most extensive coverage in the country. In addition to lots of cell sites on both coasts, it has towers in the middle of the country -- for instance, in Billings, Mo., which Sprint, T-Mobile and AT&T ignore. However, the hotspot lacks the ability to fall back on 3G service in a pinch.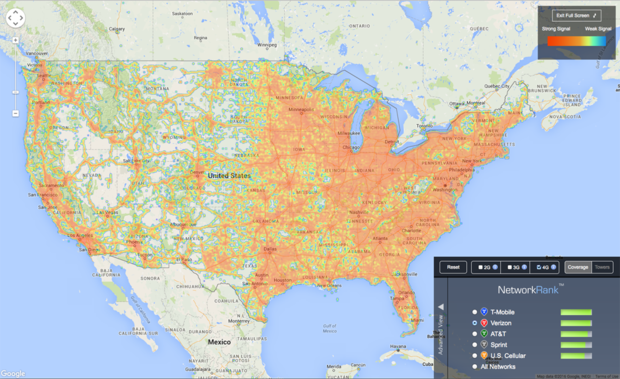 Verizon's U.S. LTE network as mapped by OpenSignal. (Click to expand).
In the real world, Verizon's network worked well with its Ellipsis hotspot. It had one connection failure, but it connected fine on the next try. It hit peaks of 32.8Mpbs and 22.6Mbps, respectively, for downloading and uploading data. While its average download speed was a more sedate 12.7Mbps, this should be plenty fast for individuals and small groups to share.
The Ellipsis offered middle-of-the road 51.6ms latency and 5.5Mbps average upload speeds. In other words, it lagged behind AT&T's Unite Express in each performance category but performed respectably compared to the other hotspots.
The device itself is inexpensive at $50 (the same as the Boost Fuse). Verizon offers weekly and monthly data plans, but nothing for a day of data. When the time period expires, so does the data. The company has a $15 weekly plan for 250MB of data, as well as monthly plans for $60 (3GB) and $90 (10GB). This adds up to very expensive data at the low end and reasonably priced data at the high end.
This tiny hotspot is for those who want to travel light. Getting online in the widest variety of places is the name of the game here, and Verizon delivers with the best network coverage across the U.S. and a tiny hotspot that just misses being the top performer.
At a Glance
Verizon Ellipsis Jetpack MHS800L
Verizon
Price: $50 for hardware; plans range from $15 (250MB)/week to $90 (10GB)/mo.
Pros: Tiny; lightweight; inexpensive; good network coverage; long battery life
Cons: Small screen; expensive data at low end
Bottom line
When it comes to a personal hotspot, network coverage and pricing count for at least as much as the hardware does. This trifecta means that despite Boost's inexpensive data plans and the enviable $50 price tag of its Netgear Fuse Mobile Hotspot, its use of Sprint's network means it will neither satisfy a thirst for high-speed data nor offer the ability to connect in out-of-the-way places.
That goes for Karma Go as well, although its superior Wi-Fi range and the fact that data never expires are redeeming qualities. I just can't get my mind around the hotspot's inability to encrypt data and the fact that anyone can share your connection.
Previous Page 1 2 3 4 5 6 7 8 9 10 11 12 13 Next Page