Review: 5 prepaid mobile hotspots fire up business travel
Fed up with mediocre Wi-Fi on the road? For not-so-frequent travelers, a pay-as-you-go personal hotspot might be the answer. We put five to the test.
Verizon Ellipsis Jetpack MHS800L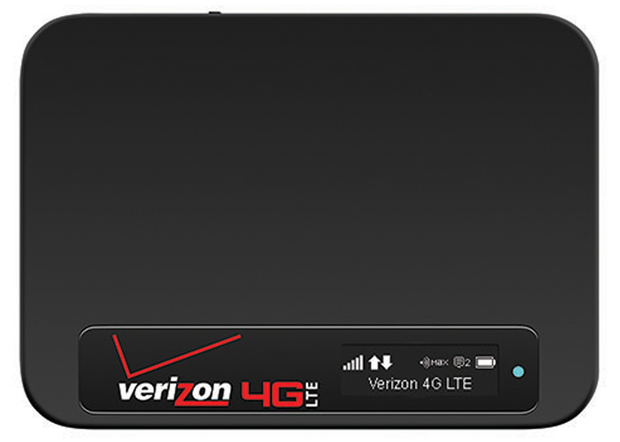 Credit: Verizon
Verizon's Ellipsis Jetpack MHS800L shows other hotspots how to succeed with a tiny device that delivers good download speeds and long battery life. On the downside, the low-end data packages available with the hotspot can be expensive on a per-megabyte basis.
The smallest personal hotspot of the five, the Ellipsis Jetpack measures just 3.1 x 2.2 x 0.5 in. and weighs 2.7 oz. That's roughly half the size and weight of T-Mobile's Z915. It easily fits into a shirt pocket.
The device has an attractive black-with-red-trim color scheme and a soft rubberized coating. On its side is a small on/off button and behind a snap-out door is the device's SIM card and a recessed reset button. It's charged with a micro USB port and comes with an AC adapter and cable.
The top of the unit has a 0.9-in. monochrome screen that due to its size was the hardest to read; I spent too much time squinting at it. It shows the signal strength in bars, as well as its connected network and a battery gauge. You can use the screen to get other details, like the network's name, by tapping the on/off button. It can also show data usage a layer below the main screen, but twice during my testing it reported, "data usage is not available at this time."
Pointing a connected browser to its host address (192.168.1.1) offers a wide variety of information and setup options. There you can see the current charge level, change the Wi-Fi channels, block devices and even set up port filtering.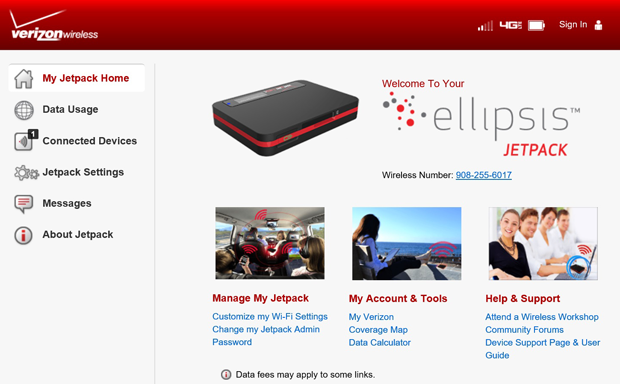 The most visually oriented of the five, the Ellipsis Jetpack's main page mixes text with images.
Setup and performance
After inserting the included SIM card and closing the door, I started up the Ellipsis Jetpack and connected it to a computer using the default name and encryption code. Each hotspot is set up with an individual name and passcode so it is secure out of the box, but I strongly recommend changing them as soon as you're connected.
A fresh browser window takes you to the Verizon Broadband Portal, where you'll need to open an account and enter your payment information; unlike Karma, Verizon only accepts credit cards. After that, you'll need to pick and purchase your data plan. All told it took me 15 minutes to set up.
The Ellipsis has an 802.11n router built in that supports WPA2 encryption and connects up to eight individual clients at a time. The hotspot has a mediocre range of 85 feet, but continuously doled out data to a client for an amazing 12 hours and 45 minutes. In this regard, it's easily the longest lasting of the five and can run for nearly three times as long as the Karma Go.
Previous Page 1 2 3 4 5 6 7 8 9 10 11 12 13 Next Page