Plan your summer vacation with Google's suite of travel tools
Google has gotten serious about helping you find flights, hotels, and keeping track of all the details.
Currently there are suggestions for specific destinations, both near to your home and far away. I'm not sure I'd necessarily use this as the sole determiner of where to take a trip, but it's not a bad place to get some ideas.
Grab a place to stay
Lodging is the next travel service that Google is beginning to tackle, but searching for a hotel with Google right now is a little weird. Instead of a dedicated "Google Hotels" site or app, you perform a search right in Chrome or the Google app, type the parameters, and then you're off to find a place to rest your weary head.
Then there are a lot of different options for specifying what type of lodging you're looking for, along with the ability to put a star next to a particular hotel in case you want to check back on it later. This is an area where Google's context-sensitive ads can actually be a benfit; you can sometimes find a good deal on the right hotel from one of them. Depending upon the search, the first result may be a sponsored suggestion with a killer deal.

Find a hotel right inside of Google search.
You have to get specific, however. If you just type "hotel San Francisco" you'll get a bunch of ads to fill the page for travel apps or websites. It's best to type in a date so you can see the actual booking tools.
For the time being Google is the middleman with its hotel service as well, with companies that actually handle the booking able to bump themselves up the search rankings through advertising. I've found a lot of good deals this way, and it's a strong motivator to start your hotel search with Google and then book from best offer.
But the hotel search should adopt some of the design and functionality of the Flights service. You ought to see your previous searches and get more suggestions up front the way you can when looking for where to jet off to.
Keep your itinerary in one place
We've looked before at the benefits of using Google Now to keep all your travel in one place. The service keeps getting better, with dedicated cards for your reservation with flights, hotels, and other details all wrapped together. As you get closer to your travel date, a dedicated card will appear in your Now stream. If you want to see it anytime, you can do so through a voice command: "Ok Google, show me my trips."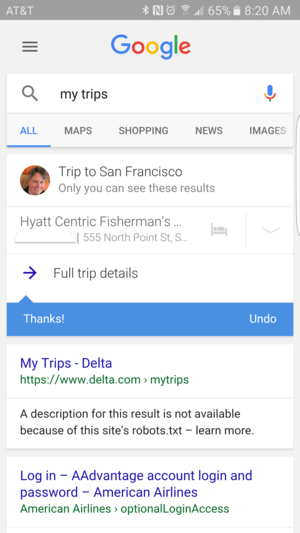 Just ask Google to show your trips and your upcoming itinerary will pop right up.