Photo shootout: We tested Portrait mode with an iPhone 7 Plus fashion shoot
Just for fun, we pushed Portrait mode to the limit and compared the results to a DSLR. The results made our photographer jealous.
During the shoot, we started seeing a lens flare leaking in, but that actually lets us point out the way Portrait mode isolates just a person's face and blurs everything else. In this image, the flare appears in the foreground, but since it doesn't cross her face, Portrait mode still applies the blur effect.
In this shot, Adam managed to catch the flare across Alina's face. On the right, you can really see how Portrait mode masks her face. The flare actually widens on the top of her head, then snaps back to its original shape as it crosses her face.
The blur on her shirt is pretty noticeable in this pair too. Since it's just a texture, it's not a big deal here, but another time when I used Portrait mode to photograph my husband wearing a San Francisco Giants sweatshirt, it was a little odd to see the type in the logo become harder to read.
In this shot, Adam included a couple of distracting elements in the background—the speed limit sign in the alley along with a couple of guys drinking beer or something. Portrait mode did a great job keeping the focus on Alina. We like how the brick wall on the photo's right side doesn't blur out too much, and her hair looks great. But we did lose a little bit of sharpness in her clothes—check out the bit of zipper and the two snaps you can see on her jacket, for example.
Mostly we think of portraits being taken in portrait orientation, but it's worth mentioning that iOS 10.1's Portrait mode works in landscape orientation too. This is one of our favorite shots from the day.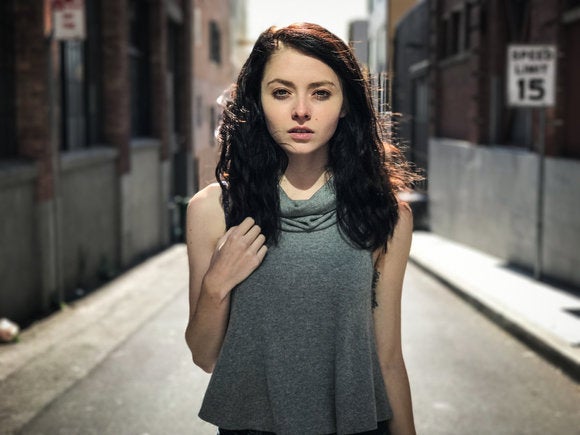 This is a Portrait photo taken with iPhone 7 Plus, then edited by Adam in Photoshop. Credit: Adam Patrick Murray
While iOS 10 does support capturing and exporting RAW images, Apple's own Camera app sticks with JPEGs as a rule. In fact, Adam noticed that the Portrait versions are about half the file size as the untouched photos, so the Camera app is already making all the decisions about what data to keep and what to discard.
So it's unlikely that we'll see RAW support added to the Portrait mode anytime soon, but it sure would make Adam happy. He exported the Portrait photo and edited the JPEG to get the result above, but naturally, a JPEG is already compressed and doesn't offer the editing flexibility that a RAW file would.
Previous Page 1 2 3 4 Next Page