Photo shootout: We tested Portrait mode with an iPhone 7 Plus fashion shoot
Just for fun, we pushed Portrait mode to the limit and compared the results to a DSLR. The results made our photographer jealous.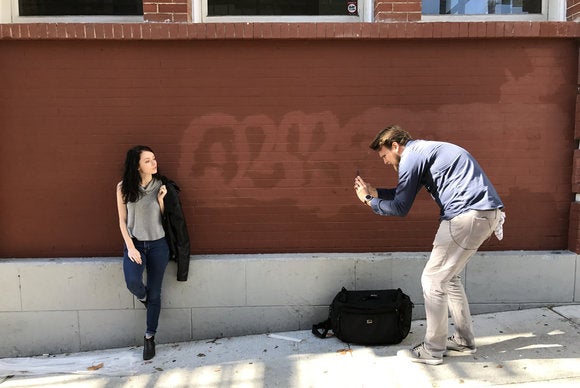 The best camera is the one you have with you, the old cliche goes, and as we found in our experiment, if that camera happens to be an iPhone 7 Plus, you're going to be just fine. The dual-lens camera system lets it take better photos than any smartphone we've tried, and the Portrait mode in iOS 10.1—while still in beta—is a lot of fun to play with.
Adam, our staff photographer, was incredibly eager to see what the iPhone 7 Plus could do, so we hired a model to re-create the kind of fashion photo shoot that he would normally do with his trusty Sony a7R II with a Canon 50mm lens.
We shot indoors in low lighting as well as full light, then took the show on the road for outdoor shots in a couple of locations near the office. Our model, Alina Lee, did a wonderful job, and Adam came away more than a little impressed with what Portrait mode could do.
Now, we must note here that Portrait mode is still in beta, and this isn't a formal, scored review—just an experiment we did for fun. We wanted to see how Portrait mode (this first version of it, anyway) would react to different lighting conditions, and how its method of keeping your subject in focus while blurring the background would compare to a full-frame DSLR. Plus, Adam is a dedicated Android user, and he just wanted to see how far Apple has come with the iPhone 7 Plus. Who could blame him, right? Check out some of the results below—be sure to click each pair to see the details.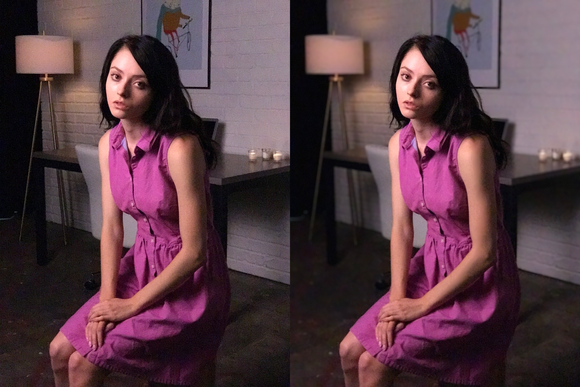 Credit: Adam Patrick Murray. (Click any image to enlarge it.)
We started in low light, indoors. This is barely enough light to trigger the depth effect—you'll see a yellow "Depth Effect" label appear on the screen when you're at the right distance and lighting level to make it work.
In this shot, we're pushing the distance a little bit too—typically, Adam says, a portrait would be a little tighter on her face. Since Portrait mode uses the 6.6m "telephoto" lens on the iPhone 7 Plus, which has a f/2.8 aperture and no optical image stabilization, you can see some noise, but all in all this isn't too bad for an indoor photo.
Another low-light, indoor shot. In the depth effect shot on the right, you can see how some of the fine pieces of hair around her head get completely blurred out, but the blur effect also smooths out some of the noise on her arms.