Numbers 2.6.1 for iOS review: Spreadsheet app is now a better competitor to Excel
In my November 2013 review of Numbers 2.0, I found the app to be a "good, solid, usable spreadsheet tool." Fast forward a couple of years and Numbers for iOS has reached version 2.6.1, with many new and/or improved features.
If you connect a keyboard to your iPad for spreadsheet work—and you should for larger project—Numbers has a bunch of keyboard shortcuts, i.e. Command-N for a new spreadsheet. Even better, if you press and hold the Command key, Numbers shows a pop-up listing of all available shortcuts for the item you have selected.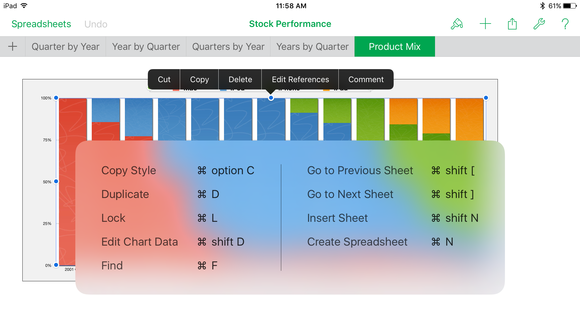 With an item or cell selected, press and hold the Command key on an external keyboard to see a list of shortcuts.
(There's also a list of shortcuts in Numbers' help, which is accessed through the question mark icon on the toolbar.)
A seemingly minor improvement to the Fonts menu is, to me, one of the more useful additions: A Recents section at the top of the Font menu means no scrolling through long lists of fonts to get to those you use most often.
There are numerous other minor changes, including adding reference lines to charts, being able to chart date and duration values, and column and row labels in tables. You can also take photos and videos directly within the app, making it much easier to add multimedia to your spreadsheets.
Sharing and compatibility
A lot of the improvements in Numbers relate to sharing your work, as well as compatibility with that other spreadsheet program some people use, Excel. On the sharing front, you can now set a "view only" option for shared spreadsheets, so that other users can't change your work. You can also share password-protected sheets via an iCloud link, and Numbers now supports third-party storage providers like Box and Dropbox (though you can't create new documents on Dropbox).
The main Numbers window, which lists all of your spreadsheets, now lets you restore previous versions of those sheets, and includes a preview feature so you can see exactly what's in a version prior to opening.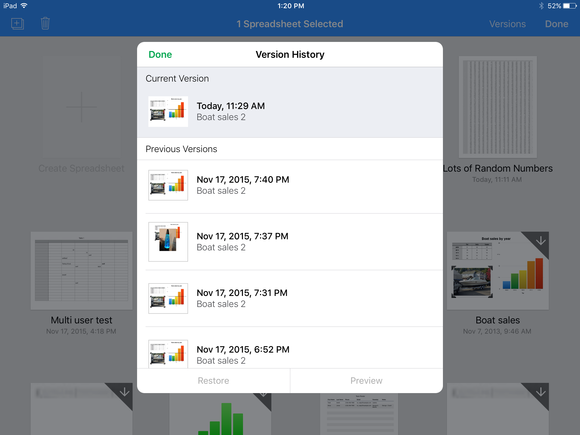 The version browser makes it easy to go back in time to a prior version of any spreadsheet. The Preview button lets you see what you'll be opening before you actually open it.
While iOS and Android users still can't work on shared spreadsheets, they can, at least, preview them in their web browsers. In my testing, the previews were very representative of the native worksheets. Without the ability to edit, though, this limits the usefulness of sharing for those on iOS or Android.
On the compatibility front, Numbers now does a better job of importing Excel spreadsheets. Numbers still doesn't handle array formulas (an esoteric feature, but one loved by those who rely on it), but it properly handled some oddly-formatted cells in one of my Excel test workbooks. Exporting to Excel works better, too; you can even export a password-protected sheet to XLSX format.