Nine batteries for charging your iPad (and everything else)
Whether you're exploring the great outdoors or enduring a power outage, a portable charging device can come in handy when electrical outlets are either unavailable or, as is often the case, not functioning.
New Trent iCarrier IMP120D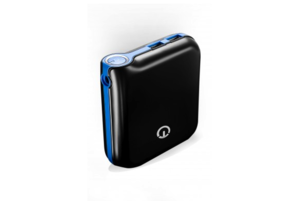 The $70 iCarrier Heavy Duty Dual USB 5V/3A charger, model IMP120D (3 of 5 rating), is the least-pricey charger in this roundup, yet with 12,000 mAh, it has one of the highest capacities. It measures 3.9 by 3.6 by 1.1 inches and weighs 10 ounces.
Like the iSound models, the iCarrier loses points for requiring its own AC adapter to charge itself. We also didn't like the battery's failure to make obvious to us which of its two USB-charging ports will support an iPad. (The ports are labeled Output 1 and Output 2, with the power output of each noted only in small print on the bottom of the device.) The iCarrier took 9 hours, 10 minutes to charge, after which it was able to charge our iPad to 75 percent of capacity.
Sanho HyperJuice Plug 10,400mAh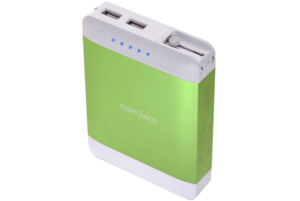 While some portable chargers use a Micro-USB cable to charge, and others rely on an inconvenient AC adapter, Sanho's $130 HyperJuice Plug 10,400mAh (3.5 of 5 rating) eliminates the need for charging cables by having the plug built right in. Simply pop out the two-prong plug and stick it in a standard AC wall outlet, and you're filling up the HyperJuice Plug's 10,400 mAh battery. The Plug is a little bulkier than most of the chargers we evaluated, at 4.8 by 3.4 by 0.8 inches, and it weighs a substantial 11.6 ounces.
Many two-port chargers have one 2.1A USB port for iPads and one 1A port for smartphones and similar devices. The HyperJuice Plug is smart enough to recognize which port is drawing more power and to adjust accordingly: Plug an iPhone into either port, and the battery outputs 5W; plug an iPad in, and it gives that port 10W. You can even use the HyperJuice Plug with two iPads—it will automatically give each USB port 7.5W. Available in a wide variety of colors, the HyperJuice Plug 10,400 mAh took 7 hours, 51 minutes to charge up, but the battery loaded our drained iPad to 61 percent of capacity before calling it quits. The HyperJuice Plug also offers built in protection against overcharging and overheating.
Sanho HyperJuice Plug 15,600mAh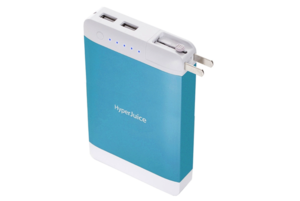 For $30 more, the larger HyperJuice Plug 15,600mAh (3.5 of 5 rating) offers 50 percent more battery capacity than its similar-looking sibling. At a hefty 16.8 ounces, this version of the Plug was the only battery in the roundup to weigh more than a pound. At just over 6 inches in length (but otherwise the same dimensions as the 10,400-mAh version), the HyperJuice Plug 15,600 mAh is also the longest product in the roundup. Like its sibling, the Plug 15,600 mAh has a built-in retractable plug, eliminating at least one cable or charger from your packing list. The battery charged up in 8 hours, 16 minutes, and it charged our drained iPad to 95 percent.
Previous Page 1 2 3 4 5 Next Page