New build of Windows 10 mobile brings Cortana, camera improvements
The slightly tricky upgrade, Windows 10 Mobile Build 10136 also adds performance improvements and UI tweaks.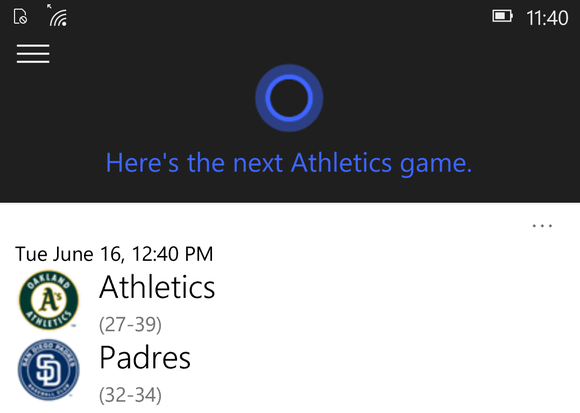 Windows Phone users who have been testing the upcoming version of Windows 10 for smartphones have a new build to play with.
Microsoft just released build 10136 of Windows 10 Mobile to beta testers in the Windows Insider Program. It brings a bunch of improvements to the new mobile OS, including design changes to Cortana, the virtual assistant that was first released with Windows Phone 8.1.
Alerts about flights, package tracking and trips to certain destinations have also been enabled. In addition, Cortana will now answer questions about things like currency, stock tickers and weather.
The update also includes a feature designed to make one-handed use easier. People who have phones with screens that are 5 inches or larger can press and hold the Start button to have the screen slide down so they can more easily reach controls that would normally sit at the top of the display. It's similar to the Reachability feature Apple added to the iPhone 6 and 6 Plus last year.
Smartphone photographers will get a boost from the update, too. The Photos app received performance and reliability improvements, along with a change that lets people zoom in on photos by double-tapping them. Microsoft is also launching a revised Lumia Camera Beta app, which offers additional features based on Lumia phones' capabilities.
Build 10136 also brings a bunch of much-needed stability improvements, which is a good sign for people who want to use the new operating system on phones they carry regularly. Users will now receive MMS messages normally, their Start screen backgrounds will scale correctly and Microsoft has fixed a bug that caused touch input to stop responding on the lock screen.
Upgrading to Build 10136 takes a bit of work for people who are already running the most recent version of Windows 10 on their phones. Because of a bug, people who have build 10080 installed on their phones will have to first use the Windows Phone Restore Tool to downgrade to Windows 8.1 and then re-install the Windows Insider Program app. Once that's done, they need to opt back in to Fast ring builds in order to get the new update.
In addition, people who install the build should be aware that there's a status screen missing at the end of the upgrade process, which means that the phone's lock screen "will appear frozen without the date and time for up to 10 minutes." According to a post by Gabe Aul, a general manager in Microsoft's Operating Systems Group, it's important that users let their phone sit and work through the process without fiddling with it.