MSI GT72S Dragon review: What it takes to get a laptop to game like a desktop
A full-on GeForce GTX 980 card and an overclockable Skylake chip are a good start..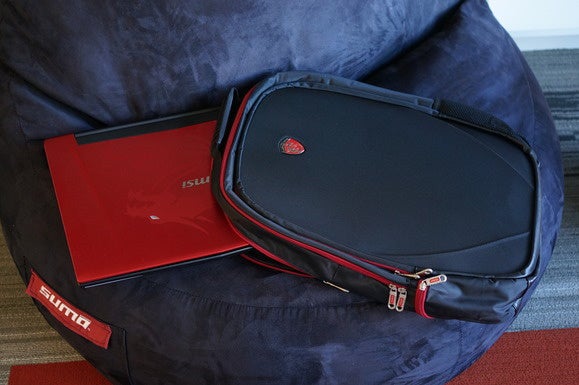 This a very nice touch: The 8 lbs. 9 oz. GT72S Dragon comes with a backpack capable of swallowing the laptop and all your gaming gear needs too.
But wait: That's just for the PC itself. With a gaming laptop, you're also getting a monitor, a keyboard, a mouse, and speakers. In the GT72S Dragon's case, it's not just a cheap monitor either, it's an IPS G-sync panel. That might add another $500 on a new PC. Once you toss in a good gaming keyboard for $100, and a pair of speakers or headset for $50 plus a mouse and webcam you're up to roughly $2,500 for a complete system with somewhat equivalent specs.
That means the price premium for the GT72S Dragon is around $600. Is it worth it? No, not if you never place any value portable gaming performance. If you just never bring your rig to a friend's house on a whim (which you can do with a gaming laptop) or with you on a weekend trip, then no, why buy a gaming laptop? Get a desktop.
But if you are the kind of person who does need gaming you can take with you on a month-long trip or an overseas deployment, then the price premium is well worth it.
Are there improvements to be made? Sure. As neat as it is to see 32GB in a laptop, I'd shave that in half for the savings because the vast majority of people just don't need 32GB of RAM. While under a normal GPU load or even overclocked to 4GHz, the GT72S Dragon fan noise was reasonable—but on occasion, especially when coming out of standby, the fans would run at a loud full speed for a few seconds. And yeah, those trackpad buttons. I imagine the factory technician who calibrated them could lift a Buick with her thumbs if these felt normal to her.
If you can overlook those faults, what you're getting with the GT72S Dragon is truly desktop performance in a laptop.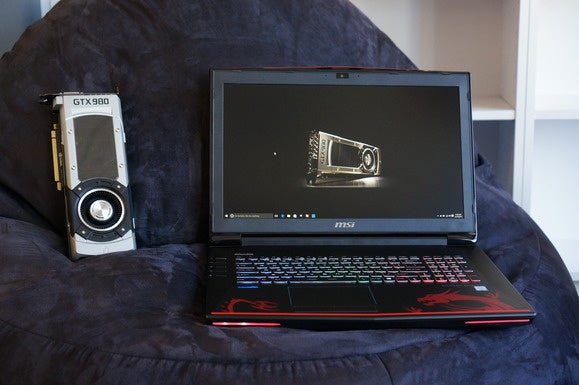 Impressive: You get every bit of performance of the GeForce GTX 980 card on the left inside a semi-portable laptop. Credit: Gordon Mah Ung
Previous Page 1 2 3 4 5