MSI GT72S Dragon review: What it takes to get a laptop to game like a desktop
A full-on GeForce GTX 980 card and an overclockable Skylake chip are a good start..
Let's look inside
I don't typically take apart review laptops, but the GT72S Dragon was too intriguing to pass up. To open up the GT72S Dragon, just remove the perimeter screws along with the one under the warranty sticker (a hint?), then carefully pry off the lid.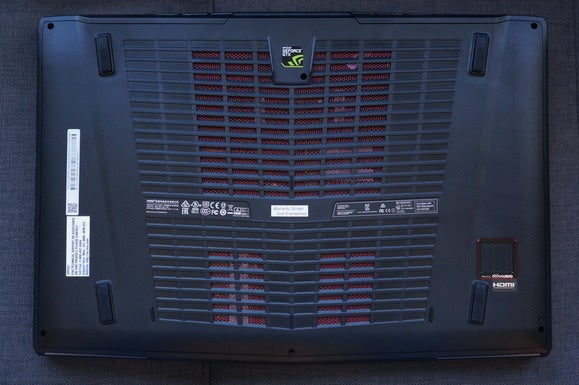 The MSI GT72S Dragon is well vented and generally fairly quiet except under the most extreme GPU loads. Credit: Gordon Mah Ung
Here's the actual inside of the GT72S Dragon. It's fairly straightforward, with easy access to most of the components. The laptop actually uses four 8GB DDR4 SO-DIMMs, so I'm guessing the other pair is embedded on the other side of the motherboard. The GeForce GTX 980 is under the cooler on the right in an MXM module while the Core i7-6820HK is soldiered to the motherboard on the left. And no, you can't swap the CPU out, as Intel stopped making CPUs for laptops using sockets beginning with the mobile Broadwell CPUs.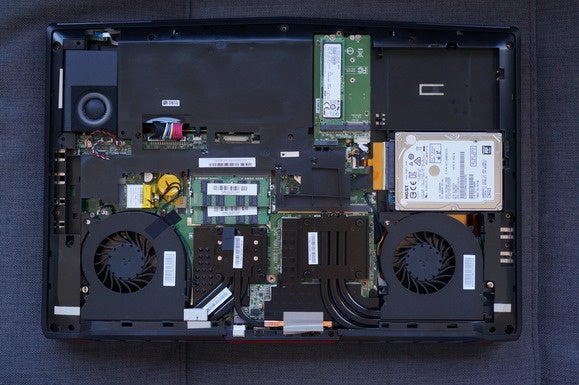 Access to the guts of the MSI GT72S Dragon is just seven screws away—provided you're not afraid of voiding your warranty. Credit: Gordon Mah Ung
There's one other gut shot that's really worthy of getting detail on and that's the storage sub-system. MSI actually uses a small daughtercard to mount the M.2 drives to. I didn't disassemble it any further, but I believe up to four M.2 drives can be mounted to it. That means up to four M.2 drives in RAID 0 performance for even more over-the-top read and write speed.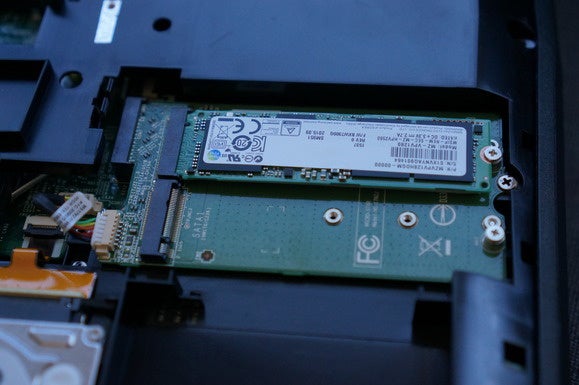 MSI uses an interesting daughter card that I believe mounts up to four M.2 drives on it. Credit: Gordon Mah Ung
Is it worth it?
There's no question the GT72S Dragon is kick-ass in performance. You're getting pretty much desktop-level performance without any compromises in gaming, compute and storage. It's also not very cheap: The configuration I received notches $3,100 into your credit card. That price will have every single desktop user chiming in and saying: "It ain't worth it, just buy a desktop."
Even if we bought into the narrative that there's simply no value to a powerful gaming laptop that can be zipped up into the included backpack (thanks MSI!) in 60 seconds,we'd need benchmarks to know the truth.
I went to PCpartpicker.com and spec'ed out a similar gaming PC. I didn't pick low-end components such as a $50 case or $4 power supply, but I didn't pick over-the-top components either. That desktops cost? Roughly $1,729 including the OS. That includes an OCZ Revo PCIe card, which is actually slower than the pair of M.2 drives in the MSI but about the only comparable thing I could find in the same capacity range. Also note the GeForce GTX 980 I picked—an MSI one—packs only 4GB instead of the 8GB that the laptop's GPU has. There are actually no 8GB GTX 980 cards I could find. You can see my build here.
Previous Page 1 2 3 4 5 Next Page